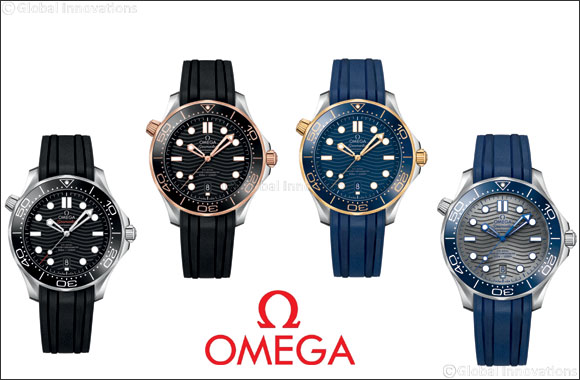 Like the watch he's wearing, OMEGA ambassador Daniel Craig is clearly at home in the water. Set to play 007 for the fifth time, the talented actor looks every inch the gentleman, even when surfacing for air in a drenched tuxedo. The quintessentially-British Bond is a legendary character, so it's only right that the actor who plays him gets to wear a legendary timepiece. Daniel Craig first wore an OMEGA on-screen in Casino Royale in 2006, but the actor was an avid watch fan long before he took on the iconic role. Though Bond is stoic, tough and even ruthless when required to be, Daniel Craig is anything but. A grounded English gent with an approachable style and commitment to social causes, OMEGA is proud to call Daniel Craig a friend and thrilled that he's the face of the new Seamaster Diver 300M. He truly is the perfect choice. After all, how many underwater explorers can make a wet-suit look this stylish?
Since 1993, the Seamaster Professional Diver 300M has enjoyed a legendary following. Loved for its design and ocean technology, the original timepiece signalled OMEGA's triumphant return to the world of diving watches and also ignited the brand's long-standing partnership with James Bond. Now, 25 years later, a bold new collection has arrived.
OMEGA is unveiling a complete facelift of this famous watch in 2018, with 14 unique models, including 6 in stainless steel and 8 in a mix of stainless steel and 18K gold.
Now sized at a larger 42 mm, each new Diver 300M has been given a Master Chronometer Calibre 8800, instantly taking the collection into a higher realm of precision, performance and magnetic resistance.
Every detail of the outward design has also been rethought, including the iconic diving bezel, which is now made from ceramic with the diving scale in Ceragold™ or white enamel (for longer-lasting whiteness and durability).
The dials are also made from polished ceramic and are available in black, blue or sun-brushed PVD chrome colour. Most notably, OMEGA has reintroduced the wavy pattern (now laser-engraved) that was a popular feature of the original design.
All indexes have been raised and filled with Super- LumiNova and, to keep track of the days, the date window has been moved to 6 o'clock. Even the skeleton hands (rhodium-plated, 18K gold, or blued) have been subtly reshaped, which fans of the model will surely notice.
Turning the watch over reveals a wave-patterned edge on the caseback, as well as sapphire crystal, through which you can see the METAS-approved movement.
Finally, each model is presented on a traditional iconic metal bracelet or an integrated black or blue rubber strap. The metal bracelets feature a new ergonomic design and have been closely integrated to the case.
You don't have to be an actual diver to wear the 300M, but for those who do strap on the tanks, OMEGA's new Seamaster is well and truly equipped for life beneath the waves.
For a diver, measuring time spent underwater is crucial (for obvious reasons). On the new Seamaster 300M, the all-important rotating bezel has been given a fresh design twist. With a luminescent dot at 12 o'clock, the iconic diving bezel is now made from ceramic with the diving scale in Ceragold™ or white enamel.
Professional divers know that helium molecules expand during decompression and can pop the crystal face and caseback. It's important to set those He molecules free. One of the Diver 300M's most important details has always been its helium escape valve. For the new models, the valve has been given a conical shape and has been patented with an ingenious new technology. Essentially, the update now means that if the Helium Escape Valve is accidentally opened underwater, the watch is guaranteed to still remain water-resistant (up to 5 bar).
It goes without saying that a diver needs to see the watch display clearly underwater, especially in murky conditions, so on the new 300M, all 12 indexes and hands have been filled with Super-LumiNova to keep the time visible in darkness. When it comes to keeping the Diver firmly attached to the wrist, the metal bracelets feature OMEGA's patented extendable foldover rack-and- pusher with a helpful diver extension, to make extra room for the thickness of a diving suit.
Magnetic forces in electronic devices used on land, on deck and even under the sea can throw a timepiece out of synch. What's more, diving equipment often includes magnetic devices. That's why each new Diver 300M has been given a Master Chronometer Calibre 8800, built with non-ferrous materials that can resist the effects that magnetism causes. In fact, the movement and its watch have passed the 8 stringent Master Chronometer tests set by METAS that include examinations under strong magnetic fields of 15,000 gauss.
As for water resistance, well that's a given on a Seamaster Diver 300M and there are no prizes for guessing how low it can safely go.
The eight metas criteria of certification:
Function of cosc-approved movement during exposure to 15,000 Gauss (1.5 tesla) magnetic field
Function of watch during exposure to 15,000 gauss magnetic field
Deviation of daily chronometric precision after exposure to 15,000 gauss
Average daily chronometric precision of the watch
Power reserve
Deviation of chronometric precision in six positions
Deviation of chronometric precision between 100% and 33% of power reserve
Water resistance
When it was launched in 1993, the Seamaster Professional Diver 300M was an instant success. Admired for its design and technical prowess, it was quickly adopted by divers, athletes, researchers and even a famous movie spy!
So how did the watch secure its legendary status? These are just some of the many highlights from its early years.
Frenchman Roland Specker achieved a world record freshwater free dive to a depth of 80m in Lake Neuchatel. On his wrist, he wore the new OMEGA Seamaster Professional Diver 300M, successfully testing it in a true deep-water environment.
The Seamaster Diver 300M Chronograph was awarded the "Watch of the Year" prize by readers of the German magazine Armbanduhren. This was the first "Watch of the Year" award and signalled a promising future for OMEGA's newest collection.
The Diver 300M became part of sailing history, when it is worn by several sailors of Team New Zealand, who achieved an unforgettable victory at the America's Cup. At the head of the team was the legendary Sir Peter Blake.
One of OMEGA's most exciting and enduring partnerships began when James Bond strapped on a Seamaster Diver 300M for the first time in GoldenEye. The spy and his watch became synonymous and sales of the timepiece soared.
The Seamaster Diver 300M proved that is was not just a watch for diving, when it was advertised as the preferred choice of international sports stars including the swimmer Alexander Popov and tennis champion Martina Hingis.
Sir Peter Blake created the incredible Blakexpeditions foundation, dedicated to researching ecological and marine issues around the world. On board their boat the Seamaster, the Blakexpeditions crew wore Diver 300M models for their important scientific work.
A new James Bond,but the same iconic watch! Daniel CraigWOfe the Seamaster Diver 300Mwhenhe burst onto screens in Cos/no Royale. The trusty timepiece was now in its 5' 007 film.