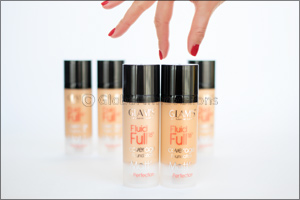 Beauty Revealed, Revealing the Woman in You
Dubai, UAE, September 10, 2018: International makeup brand Glam's was born out of the passion for cosmetics, love for fashion, and relentless motivation of three sisters armed with a strong sense of what women want. After sharing the essentials in cosmetics with millions of women, the ambitious founders set out to bring glamour to the four corners of the globe, and Glam's finally reached the Middle East this summer.
First introduced to the area in June 2018 in Dubai, at Boots - Mall of the Emirates, the brand quickly began its regional expansion. As of today, the products are available at twenty-two points of sale in the United Arab Emirates, the Kingdom of Saudi Arabia and Kuwait, bringing joy to an even greater number of beauty adepts. Feminine, dynamic and modern, the Glam's woman flaunts a passion for self-expression, cherishes her individuality and is fully in touch with the latest trends. If you are audacious, daring, incessantly curious and always in search of inspiration, you will see yourself as that woman. Create your own glamorous identity and reveal the Glam's in you now that endless options are here.
At heart, women share a lot in common when it comes to feeling good, healthy and happy. And since Glam's believes that each one of you has the right to be as beautiful as you want and to feel at your best, the brand's full range of makeup, from foundations that feel like a second skin; mascaras, eyeliners and eyeshadows that draw the focus on you; lipsticks and pencils which indulge your personality; and nail lacquers that add fabulousness to your fingertips, remain accessible to all while counting quality as an indispensable ingredient.
In fact, the brand partnered with leaders in the beauty industry to produce its products in Italy, where style, craftsmanship, time-tested tradition and a distinct sense of luxury are infinite.
The different offerings have been especially developed to be effective, as well as health-conscious, sustainable, safe and gentle on the skin. Dermatologically and ophthalmologically tested, they are free of Paraben and hazardous ingredients, and aren't tested on animals. They are flawlessly suitable for every type of face, complexion and skin tone, and adapt perfectly to all kinds of climates -which is definitely a key feature when choosing your makeup in the Middle East!
Now available across the UAE, KSA and Kuwait, with further expansion to come, Glam's is your new go-to cosmetics friend for a touch of luxury within reach. The brand will soon be announcing the launch of new products that will further reveal the beauty in you.
Glam's is currently available at:
• UAE:
• Dubai
Boots, Mall of the Emirates
Boots, Ibn Battuta
Boots, Me'aisem City Centre
Boots, Deira City Centre
Boots, Dubai Festival City
Boots, The Dubai Mall
Boots, City Walk
• Abu Dhabi
Boots, Al Wahda Mall
Boots, Yas Mall
Boots, Deerfield's Mall
• Ajman
• Umm Al Quwain
• Kuwait:
Boots, City Centre
Boots, Avenues 2
Boots Avenues 3
Boots, Souk Sharq
Khaldiya COOP
• KSA:
Sahara Mall
Kingdom Centre
Riyadh Gallery
Al Othaim Mall, Rabwa
Al Rashid Mall, Khobar