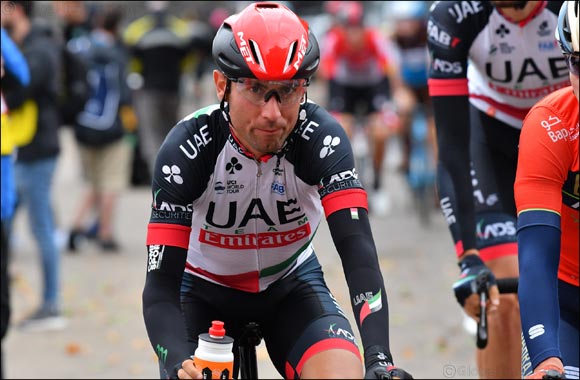 Dubai, UAE, September 05, 2018: UAE Team Emirates' Diego Ulissi returns to the stage of his last one-day race win as the Italian gears up for the Grand Prix Cycliste de Quebec and the Grand Prix Cycliste de Montreal. Ulissi took home first place in the GP Montreal last year, his second one-day victory in UAE colours, and will be hoping for a repeat performance this time round.
Joining Ulissi will be former European Champion and 2018 Tour de France stage winner, Alexander Kristoff, alongside teammates Rui Costa, Alexandr Riabushenko, Manuele Mori, Marco Marcato and Jan Polanc. The team will be guided through the races by Sports Director, Simone Pedrazzini.
Commenting ahead of the race, Diego Ulissi said: "The GP Québec and the GP Montréal are two races that I particularly like. They are classics that are similar to the world championships. Among the two, I like Montréal because it's a little harder than Québec and it's more open to attackers. I had a fever a few days ago so I am not heading into the races in the best shape , but let's see how my body will respond under force. I hope I can defend the title I won last year in Montréal."
Sports Director Simone Pedrazzini added: "We have different tactics that we can take advantage of. Alexander Kristoff can sprint, Rui Costa and Diego Ulissi can try to force some moves. In the first race in Québec, it seems like a given that it could be a sprint, in Montréal the attacks could decide things, like what happened in the past with Ulissi. We are well equipped for the races and we are going to try to take advantage of the various options on offer."
The only UCI World Tour races to take place in Canada, the GP Quebec and GP Montreal have been a feature on the tour since 2010. Both are comparable to the one-day races that take place in Europe, each over 200km and featuring a considerable amount of climbing. However, unlike the direct routes in Europe, these races will be played out on circuits. GP Quebec will feature 16 loops of a 12.6km circuit, whilst GP Montreal will challenge riders to 17 loops of a 12.1km circuit.