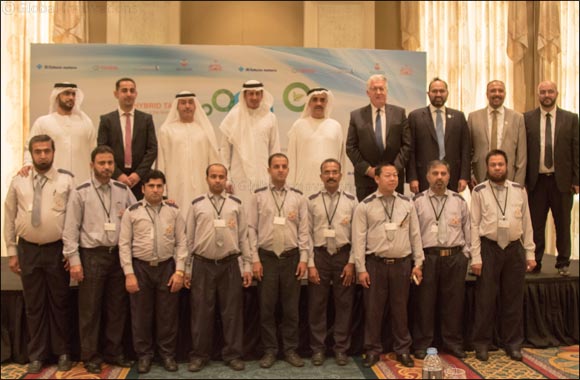 Abu Dhabi's public transport a step closer to the sustainability targets of the UAE Vision 2021
907 Camry HEV estimated to save over 47,000 000 kg of CO2
52,000 kg of CO2 saving per Camry Taxi lifecycle
Abu Dhabi, United Arab Emirates, July 5, 2018: In line with its commitment to spearhead the environmental mobility agenda within the UAE Vision 2021's environmental targets, Al-Futtaim Toyota, leader in sustainable mobility since 2008, announced the handover of 907 Toyota Camry Hybrid Electric Vehicles (HEV) to Abu Dhabi's Tawasul Transport, a subsidiary of Das Holding Group of Companies, marking Tawasul as Abu Dhabi's largest hybrid fleet operator.
The strategic introduction of the Camry HEVs comes in line with Tawasul's long-term vision aiming at converting its entire fleet to environmentally-friendly taxis, in order to accelerate the implementation of the UAE Government's sustainability targets and actively contribute to enhancing the country's clean air index.
Camry HEV has been leading the sustainable mobility march since 2008, being the first marque that pioneered the HEV technology in the UAE. The new generation Camry HEV runs for 26km/L, 9 more Km compared to 2.5L petrol-engine Camry, and is able to save 52,000 kg of CO2 when in operation for around 500,000Kms. As a result, the 907 Camry HEVs are expected to collectively save 47,164,000 kg of CO2 over their life cycle within Tawasul's operating fleet.
"The newly launched Camry HEV delivers 70% better fuel efficiency compared to petrol-engine cars. That means for every litre of petrol, the new Camry HEV runs 26km, making it the most durable and effective mobility solutions for taxi operators. The introduction of these 907 new Camry HEVs to the Toyota-exclusive taxis of Tawasul, makes us extremely proud to know that we are playing an active role in enabling a cleaner motoring in the UAE, while helping Tawasul accelerate their efforts in supporting the sustainability targets they set for themselves in line with the UAE Vision 2021" said Saud Abbasi, Managing Director of Al-Futtaim Toyota.
His Excellency Jumaa Saeed Al Kaabi General Manager of Tawasul Transportation Company said: "We at Tawasul are committed to providing distinguished transport services through our adherence to "Quality, Comfort and Safety". With the addition of our first batch of electrified taxis, we aim to provide more eco-conscious travel solutions that will support the UAE government's green initiatives. This came on the heel of an order of 50 previous generation Camry HEV in 2017, a move that proved to be sensible at all levels, especially from a sustainability perspective".
The handover of the new HEV fleet of Toyota Camry was announced at a press conference attended by Saud Abbasi, Managing Director of Al-Futtaim Motors, His Excellency Jumaa Saeed Al Kaabi General Manager of Tawasul Transportation Company and Mohammed Al Qamzi, general manager of Integrated Transport Centre in addition to a senior delegation from both companies.
Camry HEV can be driven entirely by either electrical power with zero-fuel consumption and carbon emissions, or with a combination of a petrol engine and two electric motors. The batteries in the hybrid electric drivetrain are automatically charged by either the petrol engine or when braking and decelerating, eliminating the need to plug in a power cable.
Tawasul Transport, a subsidiary of Das Holding Group of Companies has managed to establish itself as a prominent company in the field of providing taxi services in the Emirate of Abu Dhabi. Tawasul Transport fleet is operated by a team of the most qualified and experienced male and female drivers, and operates on non-stop basis, 7 days a week.