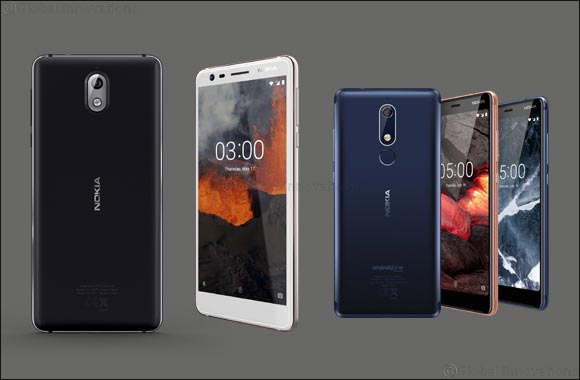 Two new Nokia smartphones running Android OreoTM further build on hallmark design and deliver quality you can rely on
Dubai, United Arab Emirates, 12, June 2018 - HMD Global, the home of Nokia phones, has continued to rapidly renew its portfolio of Nokia Android smartphones by today announcing Nokia 5.1 and Nokia 3.1. Offering access to the latest Google services, such as the Google Assistant, the duo of smartphones continues to deliver a pure, secure and up-to-date Android experience with Android One and Android Go, combined with the premium craftsmanship and design expected from a Nokia smartphone and the performance to match.
Sanmeet Singh Kochhar, General Manager - Middle East, HMD Global, said: "We are thrilled to see Nokia 5.1 and Nokia 3.1 available in the market. We are enhancing our range of phones that matches our consumers' needs through delivering larger screens, processor upgrades and offering up to 50% higher performance without compromising the balance with power consumption. In addition to those improvements, our newly launched phones continue to offer the Finnish design with fantastic craftsmanship that is expected from any Nokia phone.
The feedback from the audience to the Nokia phones range has been thrilling and the addition of these new devices underpins our promise of offering a premium smartphone experience without paying a premium on the price".
Nokia 5.1: A timeless classic refined
Continuing with the classic design of the previous generation, the new Nokia 5.1 is understated, compact and effortlessly stylish. It gets its structural integrity from a single block of 6000 series aluminium, refined through a rigorous 33 stage process of machining, anodising and polishing to give an exquisite satin finish and feel in the hand. The new Nokia 5.1 packs a 0.3-inch bigger display in a 2mm narrower body and precise attention to the finest details like harmonising the rounded edges on the screen bezel with the corners of the phone to offer a compact, pocketable experience. Nokia 5.1 comes with a higher resolution 5.5-inch Full HD+ display in 18:9 aspect ratio, making watching your favourite content – be it browsing the web, watching your favourite shows, sharing funny memes or gaming - a delightful experience.

Powered by a 2.0 GHz MediaTek Helio P18 octa-core processor, Nokia 5.1 delivers a smoother all-round performance that is 40% faster and more powerful than the previous generation so you can create, edit and multitask effortlessly. You can capture more detail of what matters in your life with its upgraded 16MP rear camera with phase detection auto-focus and wide-angle front camera. Nokia 5.1's fingerprint sensor has been relocated to the back of the phone so you can unlock it with your index finger or leave your wallet at home as you pay securely and easily with NFC through Google Pay .

The new Nokia 5.1 will come in three classic colours: Copper, Tempered Blue and Black (available a few weeks later); one storage/RAM option: 2GB/16Gb, and will be available starting 26th July 2018 at a price of AED 689.

Nokia 3.1: The perfect harmony of materials and performance
Nokia 3 has been the most successful model in the line-up of Nokia smartphones and our biggest franchise to date. The new Nokia 3.1 now forges a rich connection between materials with a stunning design and delivers the performance to match, making it more attractive than ever before. The beautifully curved screen melts into the slim CNC'd aluminium sides with a dual diamond cut to deliver a perfect harmony of materials. Just the right size for single hand use, our most affordable 18:9 smartphone with 5.2-inch HD+ display gives you more content at one glance, while the 2.5D curved display is protected by damage resistant Corning® Gorilla® Glass to keep it beautiful for longer.

The Nokia 3.1 runs MediaTek 6750, an octa-core chipset, giving you twice the processor cores and a 50% performance boost on the previous generation so your phone can keep up with you. Featuring an upgraded 13MP main camera with auto focus, Nokia 3.1 captures the memories that you'll want to relive over and over. Thanks to its full set of sensors usually only found on premium phones, the Nokia 3.1 lets you make the most out of popular AR apps like Pokémon Go, pay securely and easily with NFC on Google Pay1 and capture the whole scene with panoramic imaging.

The new Nokia 3.1 will come in three colours: Blue/Copper, Black/Chrome and White/Iron; two storage/RAM options: 2GB/16GB, 3GB/32GB, and will be available starting 21 June 2018 at a price of AED 519 (2GB/16 GB) and AED 619 (3 GB/32 GB).

Pure, secure and up-to-date Android experiences across the range
Together with Nokia 8 Sirocco, Nokia 7 plus and Nokia 6.1, Nokia 5.1 and Nokia 3.1 also join the Android One family, delivering an experience designed by Google that is smart, secure and simply amazing. Nokia smartphones with Android One offer more storage and battery life out of the box, as well as the latest AI-powered innovations from Google to help you stay ahead of the game every day. Nokia 5.1 and Nokia 3.1 will receive three years of monthly security patches and two years of OS updates, as guaranteed in the Android One programme. This puts them among the most secure phones out there, always up to date with the latest Google services like the Google Assistant and Google Photos with free unlimited high-quality photo storage.

Anne Laurenson, Director, Android Partnerships at Google, says: ''People all over the world look for smartphones that fit their needs and Android's mission has always been to bring the power of computing to everyone. Part of that is ensuring a great experience across the broadest range of devices. We have worked closely to combine Google's latest software innovations with HMD Global's expertise in quality hardware, so the Nokia 5.1 and Nokia 3.1 can bring the smart, secure, and simply amazing Android One experience to everyone.'

Availability
Nokia 5.1 will be available from 26 July 2018 for a price of AED 689.
Nokia 3.1 will be available from 21 June 2018 for a retail price of AED 519 (2GB/16 GB) and AED 619 (3 GB/32 GB).