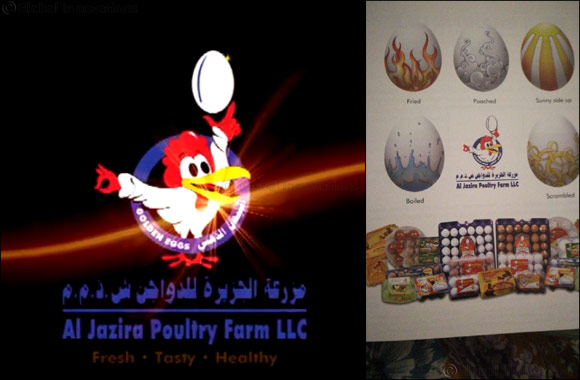 Dubai, UAE, May 31, 2018: Al Jazira Poultry's eggs are produced in extremely hygienic conditions using the best possible equipment and systems from Europe. Hens from the world's best breed are flown in from Europe and housed in water-cooled insulated houses where they are protected from the region's extreme climatic conditions and wild birds. Automatic systems ensure a comfortable climate, along with a steady supply of feed and cool drinking water in the hen houses.
The standard of drinking water meets with G.S.O. and W.H.O standards for potable water.
Feed for the hens, mainly corn and soybean meal, is manufactured in-house ensuring full quality control & freshness.
A comprehensive distribution network comprising temperature controlled vans ensures that customers all over the Emirates receive a supply of fresh eggs everyday.
Established in 1999, Dubai-based Al Jazira Poultry Farm L.L.C. has grown year on year from a production capacity of 60 million eggs to 100 million eggs per annum. The company is well established and well known not only in the UAE but across the gulf Cooperation Council (GCC) countries too.
Al Jazira Poultry's eggs have earned the name 'Golden Eggs' as they have rich golden yellow yolks.
The fine quality of the eggs and their freshness and daily availability have made 'Golden Eggs' the number one selling egg brand in the UAE.