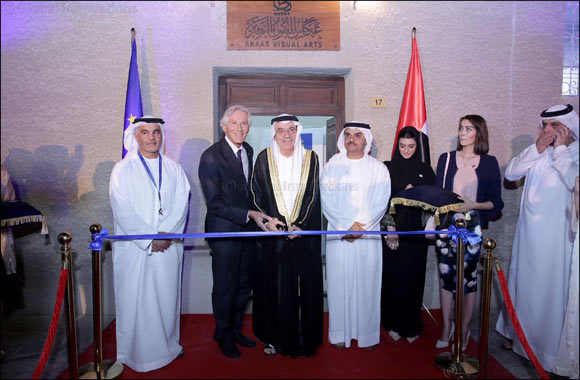 Dubai, UAE, May 14, 2018: Sheikh Zayed's famous eyewear became a fashion icon in the UAE, with generations of Emiratis donning the same classics he wore, such as the Iconic Champion sunglasses from Carrera. One of reasons the late founding father could carry off the classic look, was because he was universally admired and a role model for everyone and anyone who knew him.
For this teaser event on May 9th, Europe Day, Carrera is lending from its archives one of these iconic sunglasses donned by Sheikh Zayed. At the bigger event to open in the fall of 2018, the public will be able to try on replicas of Sheikh Zayed's sunglasses and take a selfie with a photo of the charismatic leader. An original pair owned by Sheikh Zayed will also be on display in the fall.
More from the Italian brand:
Carrera, the statement brand synonymous with pioneering design and outstanding quality in eyewear since 1956, stands for people who live by their own rules, continuously defying themselves and proudly approaching life, standing out from the crowd.
Since its creation, Carrera has always followed the passion for sport, alongside sporting legends in different fields. Carrera's founder, Wilhelm Anger, named his Company after the most legendary car race in history, the Carrera Panamericana, in Mexico drawing inspiration from what, back then, represented the future.
An incredible story made of innovation, collaboration and unmistakable style began, intersecting the lives of great personalities who have worn Carrera glasses through sixty-two years of increasing popularity, including Sheikh Zayed, who wore Carrera Champion —on display—as one of their choices of sunglasses.
Carrera Champion Owning an iconic, original shape is a privilege reserved for only a few and Carrera has earned its place among this elite few. With their timeless teardrop shape and the stylized "C" on the bridge, the iconic CHAMPION sunglasses have been a must-have model in the brand's collections for the past several years. Unique and unmistakable, the Champion sunglasses, which date back to 1987, have since then set new standards in the eyewear industry, boasting countless imitations but nonetheless maintaining their distinctiveness.
Years and iconic styles later, 2018 marks a significant milestone for the Brand, designed in Italy and enhanced by the artisanal manufacturing excellence.
Unconventional and daring, Carrera pushes the boundaries of design to the highest peaks of distinctiveness, introducing a rich and outstanding design language with a complete product offer, that combines the most iconic and recognizable details of the brand, such as the "C" logo, the qualitative and cutting-edge lens offer and the "Tank" hinge. All of that thoughtfully finished by the new brand's graphic element - the Flag symbol: Carrera's signature detail reminiscent of the brand's sports heritage.