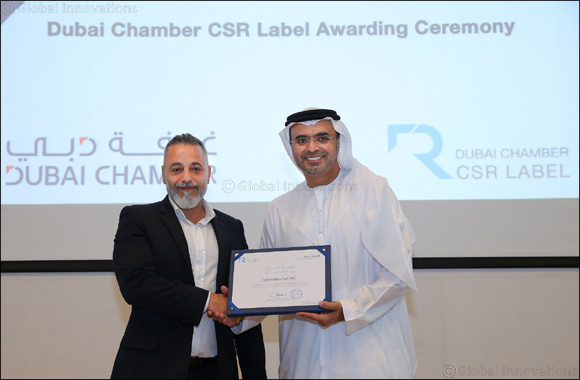 Recognised for its outstanding efforts for the 5th consecutive year
Dubai, UAE, April 16, 2018: InfoFort, an Aramex company and a leading information management solution provider in the Middle East and Africa, was awarded the Dubai Chamber CSR Label for the fifth consecutive year.
The initiative established by Dubai Chamber of Commerce and Industry aims to encourage and honour outstanding companies for their CSR and sustainability efforts.
InfoFort was recognized for its exemplary workplace practices and extensive involvement in the community. Over the years, InfoFort has invested in education to reduce youth unemployment rates and undertaken several recycling initiatives to reduce carbon footprint in the region. Furthermore, as an equal opportunities employer, InfoFort recognizes diversity of people, ideas, talents and experiences as one of its core values.
Commenting on this recognition, Abed Shaheen, CEO, InfoFort, said, "Community engagement is a key pillar and an intrinsic part of InfoFort's DNA. As an organisation, we are mindful of not only empowering regional businesses in their digital journey but also supporting the environment and the communities we operate in. We are honored to receive the award from Dubai Chambers for the fifth consecutive year. The recognition fuels us to continue our quest to reach out to a larger audience who can benefit and be empowered through us."
InfoFort began its operations in 1997, and today has operations in 25 cities across the Middle East, Africa, and South Asia.