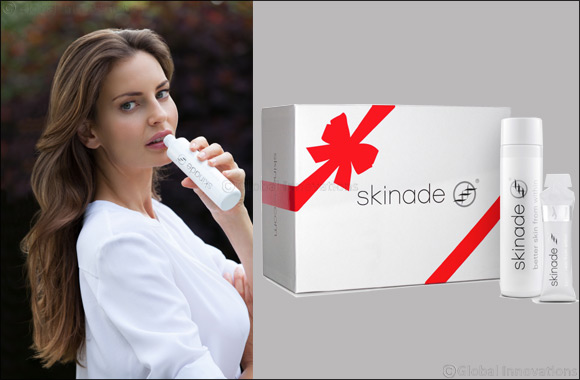 The must-have beauty supplement for brides-to-be!
Dubai, UAE, April 8, 2018: The wedding season is upon us! And that means plenty of planning; there's the ceremony, the venue, invitations, entertainment, flowers, wedding favours, seating plan and not to mention, the bridal preparation!
Bridal prep should begin months in advance, alongside the event planning. A bride is going to be in the spotlight all day, so looking picture perfect is paramount. Besides the perfect dress, a bride considers hair, make-up, skin and nails, to make sure all is flawless on the big day.
Instead of flipping through glossy magazines pages or scouting department stores for days on end searching for a multitude of beauty products to target every concern, consider skinade, the multi-award-winning, multi-tasking miracle beauty drink! It's bound to become a bride-to-be's most coveted beauty essential on the days leading up to her wedding! Here's why:
skinade is a natural peach and mangosteen flavoured anti-ageing collagen drink containing a patent pending formulation of active ingredients that aims to boost your body's natural production of collagen and hyaluronic acid. skinade aims to improve the way your skin looks and feels in as little as 30 days.
Containing hydrolysed marine collagen peptides, Vitamin C, MSM, Vitamin B Complex, Omegas 3 & 6 and L-lysine (essential amino acid), skinade delivers essential micronutrients in liquid form that aims to re-build the collagen matrix in your skin. It combats the signs of ageing by reducing oxidative stress, preventing cross linking of collagen fibres, increasing moisture and hydration, increasing natural hyaluronic acid production within the dermal layer of the skin.
Results are more hydrated, radiant, clear, youthful looking skin. skinade is a drink that works from the inside out – it will transform your skin on the face and body which is perfect for brides who opt for strapless, backless or sleeveless gowns that show some skin.
Offering results in as little as 30 days, skinade can be taken before or after breakfast and is the perfect complimentary measure to every bridal skincare regimen, besides drinking sufficient water, eating well and consistent exercising.
The visible benefits of skinade include:
Increased skin hydration and radiance
Reduced appearance of fine lines and wrinkles
Increased skin suppleness
Healthier looking hair and nails
Brides-to-be should consider a 90-day course for optimal results to guarantee beautiful skin, hair and nails for the big day!
skinade is sold in courses of 150ml 'ready-to-drink' bottles or 15ml travel sachets that you simply dilute in water. It is recommended to take skinade daily and it is sold in courses: 30 days, 60 days and 90 days. Skinade prices start from AED 800 for a 30-day supply and are available from Iwona Specialty Clinic, Sansaya Cosmetic Surgery and Dental Clinic, Euromed Medical Center, Rose Arbaji, So Spa – Sofitel The Palm and Kalm Holistic Beauty.