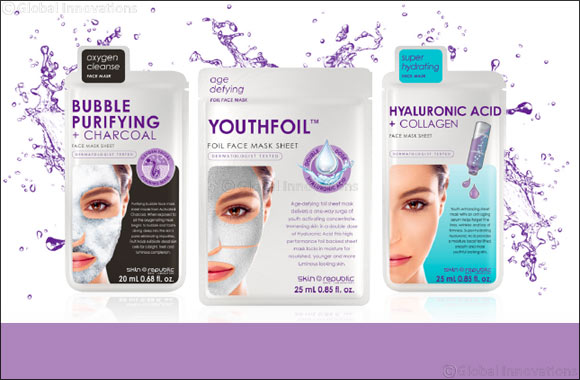 Join the revolution with Skin Republic
Dubai, UAE, March 10, 2018: Sheet masks are a worthy step in your routine that can really help to supercharge your skin for a perfect glowing look.
The reason for them being able to do so is because they hold all the product in their fabric, which in turn drip feeds skin for the entire duration of being on.
Supermodels and A-listers, both male and female love sheet masks, hailing them for their skin plumping, mind-stilling abilities and instant visible results.
Just like Chrissy Teigen, Lady Gaga, Madonna, Chris Pratt and James Franco to name a few, it's time for you too, to hop on board the train and there's no better way to start than with Skin Republic.
Skin Republic sheet masks are one of the most effective delivery systems of nutrients to the skin. The sheet mask acts as a 'second skin'; this close dermal contact encourages the skin to absorb the serum faster and more efficiently than traditional masks and creams. Depending on the ingredients used in each formula, sheet masks typically provide intense hydration and nourishment, and help repair damaged skin cells whilst simultaneously promoting the growth of new healthy skin cells.
After just one application, it's sure to be a part of your regular beauty regimen, leaving you waiting for the best day of the week – Skin Republic mask day!
All Skin Republic Masks are dermatologist tested and are not tested on animals. Skin Republic Masks have a three-year shelf life and are available from:
Department stores: Harvey Nichols, Bloomingdales, Areej, Lifestyle, Karji
Pharmacies: BinSina, Boots, Manara, Docib, Medicine Shoppe, United Pharmacy.
Supermarkets: Spinney's, Waitrose, Al Maya and Blush