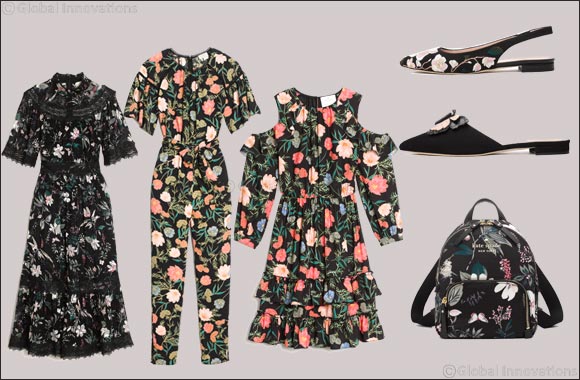 Dubai, UAE, February 15, 2018: 2018 marks Kate Spade New York's 25th anniversary, and to celebrate, we're taking a joyful adventure — a year-long road trip across america. spring 2018 is inspired by the warmth of southern charm, particularly the sights, sounds and welcoming energy of new orleans. the magnificent flora and fauna in the garden district embracing glamorous estates suspended in time; the playful sounds of jazz spilling out of dance halls onto the streets of the french quarter, where the good times always roll; and the expanse of possibilities traveling up the mississippi, onto the next adventure...

Ready-to-Wear
In a palette of soft dusky pink, strawberry and denim-blue hues, along with touches of green from verdigris to spanish moss—prim silhouettes, sharp tailoring and athletic styles define the collection. Ladylike, high-neck dresses and blouses capture the southern spirit, done in billowy botanical-print chiffon or vintage-y lace with embroidered butterflies fluttering about. flouncy, peplum tops feature eyelet or pintuck details, and sit alongside culottes and cropped denim for a fancy-casual look. a shirred, off-the-shoulder dress and top in muted gingham capture a folky, bohemian spirit. oversized trench coats with playful embroidery and twill ponchos round out the outerwear, while sporty styles from track jackets to hoodies embrace new orleans' relaxed vibe. the collection's mix-and-match effect lends it to unexpected styling twists and turns—much like our road trip.

It's Back: The Sam Handbag
As we rediscover the diverse array of what makes america so beautiful, we're thrilled to reintroduce sam, our original handbag from 1993. you'll see her reimagined in a variety of forms that represent our brand over the past 25 years, beginning with black and white stripes, botanical prints and satin, then moving on to wicker, denim, quilted leather and printed canvas.

Handbags the return of our iconic sam handbag is the big news of the season, joined by the carter street kylie, a micro tote crafted in buttery, pebbled leather.

Novelty handbags and accessories get a warm-weather update. a strawberry-carton bag is a standout, as is a wicker picnic basket with a sweet charm, and an alligator shaped bag—a ferociously fun nod to new orleans wildlife.

Madison ave.
Beautiful blooms blossom on the season's silhouettes: from a sleeveless, fit-and-flare cocktail dress with intricate embroidery to handbags adorned in leather applique. a tailored blazer and pant suit in black and cream check capture the spirit of the southern gentleman and sit alongside silky.
Feminine blouses. a cameo dress in dusky pink with black flowers and lace conjure up images of our lady sipping peach iced tea on a terrace, magnolias in bloom and butterflies fluttering by…

Shoes
Shower slides, reimagined with glimmering, golden floral applique or white wicker-like leather, are seen throughout the collection. while sparkling medallions, butterflies and magnolia motifs adorn mules, slingbacks, kitten heels and pointy-toe flats. slip-on sneakers done in woven leather, or floral embroidery with ruffle trim, round out the sporty charm.

Jewelry
Earrings are a focus, with styles ranging from everyday studs to statement pieces. fine gold metalwork and creamy pearls define a delicate butterfly pair of studs, as well as an assortment of lavish blooming chandelier earrings. a collection of molded disc earrings is understatedly masculine, while black pearl stunners with darling gingham bows are decidedly feminine.

Sleepwear
The spring sleepwear collection is defined by snuggly cotton and silk tops, pant and short sets, robes, rompers and sleep shirts in signature colors, cozy prints and quippy idioms.

Athleisure
High-performance fabrics engineered for movement and functional silhouettes ground the collection. core pieces include a scalloped sports bra, zip-up and leggings, and an unbrushed terry tracksuit with a feminine ruffle finish. cheeky idioms, stripes, polka dots and botanical prints work their way onto french terry sweatshirts and windbreakers. a pair of leggings and a track suit in quick-drying jersey feature laser cut blossom detail.

Make it mine: Personalization
With a nod to the season's inspiration, personalization continues to be paramount to diversifying our handbag collection. new flaps featuring black and white stripes, our magnolia motif and botanical prints can be worn with alexa, camila and byrdie, creating a one-of-a-kind look.