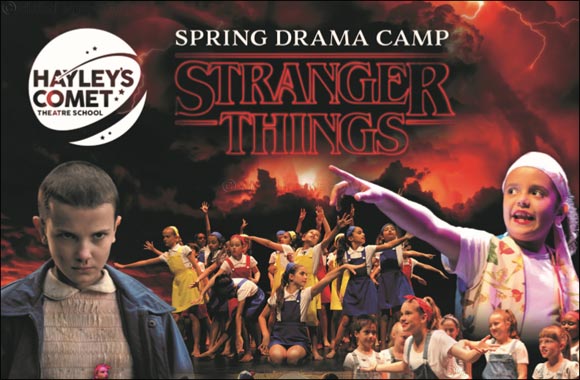 Dubai's most exciting drama camp for children & teens
Dubai, UAE, February 10, 2018: From monsters and spaceships to pinball and bowling to best friends and prom… throw some crazy 80s music in there and what do you have? A unique drama camp based on the HIT NETFLIX TV SHOW 'STRANGER THINGS'! Are your kids ready to venture to the UPSIDE DOWN…?
At Hayley's Comet Theatre Company, your kids ages 6-14 years can join the camp at James & Alex Dance Studios and immerse themselves into a creative, energetic environment where they can make friends and get to perform a show at the end of the week!
What will your kids do at camp? They will build team skills by playing special drama games themed with spooky happenings, monsters and retro mania! Plus, they will learn routines and songs, and create their own characters to become a part of a specially created play to be performed on the last day of camp for family and friends. The play will aim to be like an 'episode' of the popular TV show, with an all important cliff hanger…!!! What will the cliff hanger be? Well, the kids will decide during camp!
The camp will take place at James & Alex Dance Studios in Media City. The cost is AED 900 per week (AED 850 for previously registered Hayley's Comet kids). Camp will run for 2 weeks, with a different story and different songs each week, so kids can sign up for 1 or 2 weeks:
25 - 29 March - 9am-3pm daily with a show on Thursday 29 at 2pm
1 - 5 April - 9am-3pm daily with a show on Thursday 29 at 2pm
The lead instructors will be the Hayley's Comet teachers Glenn K Lloyd and Catherine Hayward, who are both professional performers from the UK and currently performing at high profile events all over the UAE.