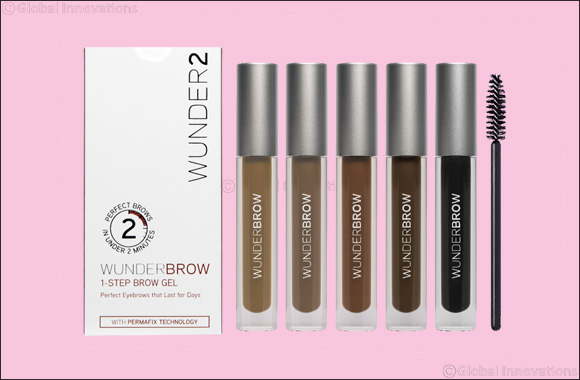 The innovative eyebrow gel: waterproof, transfer proof and vegan
Dubai, UAE, January 30, 2018: The award-winning, cult beauty classic, WUNDERBROW, is the non-negotiable beauty essential. Whether sporting disobedient, sparse or unsatisfyingly thin eyebrows, WUNDERBROW works to transform and redefine, leaving brilliantly natural, bold and beautiful brows.
Created by innovative, high-tech beauty brand WUNDER2, WUNDERBROW is the one-step gel solution to achieving perfect brows, loved by celebrities and make-up artists alike. Using cutting-edge technology, WUNDERBROW is the first of its kind to deliver instant results in under two minutes.
Waterproof, smudge-proof and lasting up to three days, it is the perfect beauty companion for any occasion, whatever the weather! WUNDERBROW is formulated using a blend of hair-like fibers combined with specially treated pigments, which fasten onto both the skin and hair of the brow. This Hair Fiber Complex is then infused into a Permafix Gel which creates a flexible matrix, locking the natural colour and fibers of the gel onto brows for greater structure and definition.
Known for redefining the face of the beauty industry as well as brows, WUNDERBROW challenges the traditional brow pencils, powders and tattooing methods often used, with its natural look and remarkable staying power.
Vegan, cruelty free and clinically proven, WUNDERBROW creates the perfect brow, enabling you to confidently put your best face forward.
Directions for use: Having selected the best shade to suit you, apply to clean dry brows. In the direction of hair growth, apply in short, feathery strokes to sparse spots or over the entire brow for a more defined look. Once the desired shape has been achieved, soften and distribute WUNDERBROW by grooming the brows upwards and outwards using the spoolie applicator.
Remove using an oil based cleanser, gently wiping over eyebrows with a cotton pad.
WUNDERBROW - AED 110
Available in 5 shades: BLONDE, AUBURN, BRUNETTE, BLACK/BROWN, JET BLACK
@wunder2cosmetics