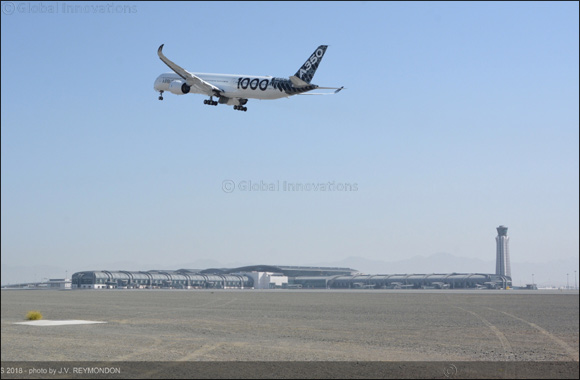 The visit reaffirmed Airbus' ongoing commitment to the Sultanate and its flourishing aviation sector.
Dubai, UAE, January 28, 2018: The largest member of Airbus' market-leading widebody product line, the A350-1000, has stopped at Muscat International Airport on the 28th of January 2018 as part of its Middle East and Asia-Pacific tour.
The visit to Muscat, in partnership with Oman Airports Management Company and Oman Air, was held with the aim of highlighting Airbus' firm commitment to the Sultanate. It further reaffirms Airbus' confidence in Oman's flourishing aviation sector while demonstrating the innovative features and unique capabilities of the A350-1000
The aircraft welcomed senior airline representatives, industry officials and media to its static display at Muscat International Airport between 9 a.m. and 12 p.m on the 28th of January 2018, and performed a flying display at around 2:00 p.m. to showcase its game-changing features in the air.
"The growth trajectory of Oman's aviation industry is a strong indicator of a healthy demand for air travel to and from the country, and Airbus remains committed to the Sultanate's developments in this important sector," said Fouad Attar, Head of Commercial aircraft, Airbus Africa and Middle East.
Oman's airports have witnessed an exponential rate of growth in passenger traffic, leading the country to propel its efforts in expanding and bolstering its aviation sector. Through investments in world-class infrastructure, global partnerships and elite training, the Sultanate is looking to harness a strong, sustainable and organic growth for its burgeoning aviation industry. The current project for a new 580,000 square metre terminal at Muscat International Airport will boost the existing passenger handling capacity to 20 million per year. This figure is planned to increase gradually to 56 million, as more terminals are built and become operational in proportion to demand.
HE Dr. Mohammed Bin Nasser Al-Zaabi, CEO of Public Authority for Civil Aviation said: "The aviation sector of Oman has entered a meticulous phase of expansion, in particular, Muscat International Airport has witnessed a surge in passenger traffic that is attributed to the increasing competition between airlines and the addition of new ones. The presence of the new Airbus A350-1000 at our airport is a testament to the vitality of this market."
Sheikh Aimen Bin Ahmed Al Hosni, Chief Executive Officer of Oman Airports Management Company said: "This visit is to Muscat International Airport is aligned with our vision to rank among the world's top 20 airports by the year 2020. This will be achieved through partnerships, and with the advancements that are currently underway. Hosting this state-of-the-art airplane showcases the readiness of the airport's new terminal and the technology and systems used to handle one of the world's most technologically advanced aircraft"

The A350-1000 is the latest member of the A350 XWB family, showing high level of commonality with the A350-900 with 95% common systems part numbers and Same Type Rating. As well as having a longer fuselage to accommodate 40 more passengers than the A350-900 (in a typical 3-class configuration), the A350-1000 also features a modified wing trailing-edge, new six-wheel main landing gears and more powerful Rolls-Royce Trent XWB-97 engines. Along with the A350-900, the A350-1000 is shaping the future of air travel by offering unprecedented levels of efficiency and unrivalled comfort in its 'Airspace' cabin. With its additional capacity the A350-1000 is perfectly tailored for some of the busiest long-haul routes. To date 11 customers from five continents have placed orders for a total of 169 A350-1000s.
The Asia Pacific world tour, which will take place between 26th of January 2018 and 16th of February 2018, will see the aircraft visiting several countries that include South Korea, Thailand, Singapore, New Zealand and the Philippines, before its return to Toulouse in France.