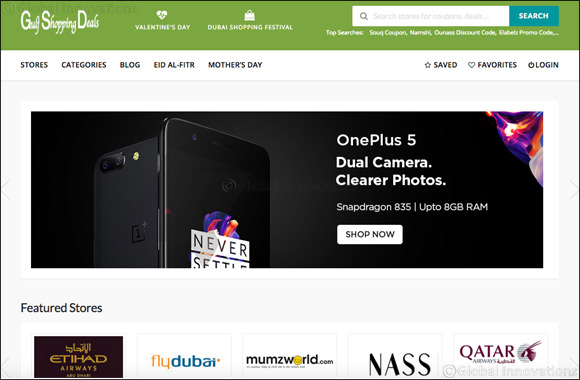 Dubai, January 25, 2018: Dubai Shopping Festival 2018 also known as DSF 2018 unveiled in Dubai on 26 December and will run till 27 January. Total retail sales are estimated to be around Dh200 Billion this year. With many top international as well as local brands participating in this event, you can get amazing benefits of sky high discounts.
Gulfshoppingdeals.com offers you with some of the best and the most amazing deals and discounts from top brands and retailers during DSF 2018. To avail these offers you don't have to visit the stores and you can get amazing discount at your home.
Some highlights of the Dubai Shopping Festival are:
Up to Dh200 Billion retail sales during Dubai Shopping Festival every year.
12% increase in number of passengers in Dubai during sale event.
Dubai Mall is biggest point of sale with around 100 million visitors every year.
Dubai Mall is world's most visited lifestyle destination and footfall increases up to 40% during sale event.
First edition of Dubai Shopping Festival opened up in 1996.
This year it started from December 26 and will run until January 27.
Around 70 brands are participating in this festival which includes Baby Shop, Aldo, Carpisa, Charles and Keith,
Crocos, Kazar, Milano, Nautica and many others. Many online retailers such as Noon, Namshi, Souq are also providing Dubai Shopping Festival 2018 offers.
The festival started with a 12-hour super sale from midday until midnight on December 26, 2017.
Visitors prizes worth up to Dh 1 Million will be distributed this year during the event.
Discount from 20% to 90% is being offers by many retailers.
Dubai Gold and Jewellery Group is giving away 33Kg of gold to their lucky winners.
There are One Day Deals every Friday during the festival during which brands participating will further reduce their prices from 10 AM to 12 PM in night. Last Friday will be on 26 January 2018.
With the greatest shopping festival hitting the area, it is only obvious that you want the best and Gulfshoppingdeals provide you with the exact thing that you need. Here, you can check out all latest DSF 2018 offers which are available online. Also, you will have the liberty of choosing the deals that you want. This enables you to save a lot of bucks for other uses. You can find many coupons and discounts for online retailers such as
Goldenscent
,
Jumia
,
Elabelz
,
Namshi
,
Souq
,
Wadi
and
Noon.
At Gulfshoppingdeals.com discounts are not only limited to one event as there are many great offers by online retailers year around. With aggregation of different coupons and discount offers, Gulfshoppingdeals gets you the exact product that you want at less price.
About The Company
:
Gulfshoppingdeals.com
was founded in early 2017 to help Middle East shoppers save money on their online purchase. We collect offers provide by around 100+ stores in UAE and Saudi. With a target to add offers from more than 500 stores in 2018, Gulfshoppingdeals.com is focused on expanding Oman, Qatar, Turkey, Egypt, Bahrain and Kuwait.