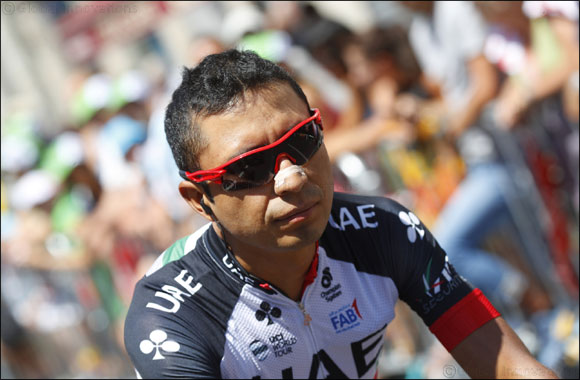 UAE Team Emirates continue their UCI World Tour 2018 season today as riders head to Argentina for the Vuelta a San Juan between 21 – 28 January, with UAE National Road Race Championship winner, Yousif Mirza flying the flag for UAE Team Emirates.
Mirza, the first professional Emirati rider to ride for a team on the UCI World Tour, last competed for the team at the Colorado Classic in August 2017 and will be hoping to build on the success of last season where he lifted the UAE National Road Race Championship on home soil. Joining him in South America will be Darwin Atapuma, Filippo Ganna, Aleksandr Riabushenko, Oliviero Troia and Anass Aït El Abdia, the latter of which makes his first appearance since the Vuelta a España.
Having first been staged in 1981, the 2018 Vuelta a San Juan is the 36th edition of the race which tours the north western region of Argentina. This year's race, which continues to hold a 2.1 UCI status, will see riders take on a flat, 148km first stage before heading into day two to face four category three climbs on the 149km looped route around Peri Lago Punta Negra. Stage Three, a 14.4km time-trial around San Juan is followed by a gruelling 183km from San Jose Jachal to Villa San Agustin. Despite being a descent finish, riders will have to tackle one category three and two category one climbs in the opening 100km. There's no let up for riders during Stage Five, as legs will be put to the test on a 169.5km route featuring one category three, two category two and a category one ascent finish atop the Alto de Colorado. Stage's Six and Seven will then pit the sprinters against one another, as riders look make up the final seconds and claim a space on the podium.
Ahead of the race, Yousif Mirza commented: "I'm really excited for a new cycling season with UAE Team Emirates. I'm proud the team decided to confirm me in the roster and I'll do my best to fulfil their expectations.
Vuelta a San Juan will have one demanding stage whilst the others will be suitable for sprinters. I don't mind the hot weather as I raced during the winter in similar conditions, but just hope I can use my form to support my team mates and maybe join some breakaways.'
UAE Team Emirates' Darwin Atapuma, competing in his first race of the UCI World Tour 2018 season said: "Argentina will mark the beginning of a year I'm really looking forward to. In 2017, I didn't suffer from any physical problems; injuries, falls, and I managed to make a good impression and hope that in 2018, I can continue to perform at this level. I will determine what kind of shape I'm in after the winter break, but I think that the stage arriving on the Alto de Colorado will be an interesting test."
Also making his season debut, UAE Team Emirates' Filippo Ganna commented: "I had a nice winter, focusing on useful training sessions and targeted workouts, and I feel I have the drive and determination going into this season. The event I'm focusing on is the time trial in the third stage. I think that the heat and jet lag may play their part, but almost all the contenders will have to race with the same conditions."