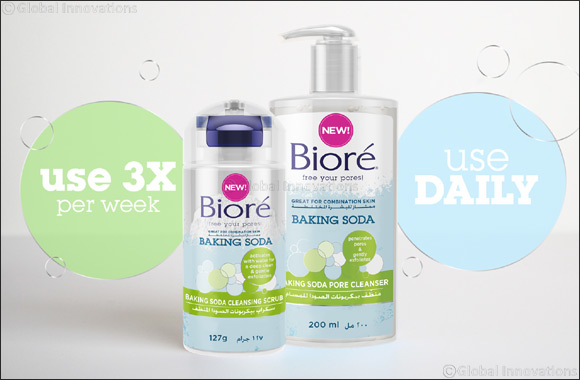 The new cleansing specialist for combination skin
20 January 2018 – Dubai, UAE: Bioré has long been associated with healthy, radiant skin and now it has elevated its offering by introducing its Baking Soda range; with the highly anticipated launch of the Baking Soda Cleansing Scrub and Baking Soda Pore Cleanser products, which are the perfect solution for combination skin, targeting both the oily T-Zone as well as the dry patches on the cheeks.
Bioré is already known for its well-loved Charcoal range, which includes everything from nose pore strips to cleansers, and now the Baking Soda products are the perfect addition to the Bioré line-up, with their ability to provide a thoroughly deep clean and natural exfoliation.
Now that the Biore Baking Soda range is well and truly on the beauty scene, it's time to get to know the benefits of these essential products;
Bioré® Baking Soda Pore Cleanser: A daily liquid cleanser that gives you a deep exfoliating clean without being rough on dry spots. Ideal for combination skin, the oil-free formula contains cleansing ingredients that excavate grime and oil from pores. At the same time, the formula gently smooths away dead cells. You end up with skin that's fresh, silky-soft and luminous.
Bioré® Baking Soda Scrub: The first powder cleanser to be sold at mass, this advanced formula is refreshingly effective and fun to use. It foams up on contact with water, gently exfoliating while forming tiny bubbles that dive deep into pores to break up oil and impurities. When you rinse the foam away, oil, debris and dead cells are swept away, leaving skin 2.5 times as clean as it would get from a basic cleanser. You'll see an instantly smoother, softer texture and visibly tighter pores after just one use. For optimal results, use 2-3 times a week — and fear not over-scrubbing: The Baking Soda Scrub grains start out fine and powdery and then naturally soften and dissolve, so you can't overdo it. And, you have the power to control the level of scrub by adding more or less water.
You will start noticing soon this new Bioré's range available in major hyper and supermarkets, including Carrefour, Géant, Lulu and Spinneys. Try it out and let us know what you think with #freeyourpores.