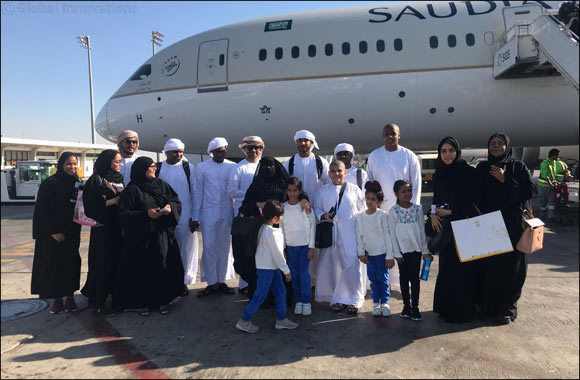 Dubai-UAE: 16 January, 2018 – Awqaf and Minors Affairs Foundation (AMAF) organized an umrah (Islamic pilgrimage) trip for a group of more than 40 Minors, mothers, and Foundation officials.
In line with the declaration of 2018 as the Year of Zayed by the UAE President His Highness Sheikh Khalifa bin Zayed Al Nahyan, the initiative aimed to contribute to fulfilling the vision of the founding father of the UAE, late Sheikh Zayed bin Sultan Al Nahyan, to provide a nurturing environment for orphans through developing the alternative family care system.
The Foundation has organized multiple umrah trips for minors under its care as part of its annual plan for the past nine years. The latest seven-day trip comprised visits to the holy Islamic sites of Mecca and Medina, as well as guided tours of historical landmarks in the vicinity.
The AMAF's Minors' Affairs Department chose 'Beraan Bewalidaty' as the slogan for this year trip to symbolize children's love and appreciation towards their mothers. Ahead of the departure, the Foundation held a lecture on the crucial role of parents and caregivers in ensuring children's physical and mental well-being, and on the importance of respecting them.
His Excellency Tayeb Al-Rais, Secretary General of AMAF, said: 'Through its programs and initiatives, AMAF seeks to instill the right values in orphans under its care that make them good Muslims and upstanding members of society. In addition, the Foundation seeks to develop orphans' relations with their mothers in order to strengthen their sense of belonging as well as their sense of responsibility towards their families, community, and homeland.'
Speaking on the importance of the initiative, he added: "Apart from providing the children with an opportunity to learn how to perform the umrah rituals, the trip helped them realize that worship is a purpose and not a mere formality. Furthermore, the formative experience encouraged them to adopt noble Islamic values, especially honoring their filial duties through respecting and appreciating their mothers."
The first stop on the itinerary was Mecca, where the children visited Al Masjid al-Haram (the Holy Mosque), Mina Valley, Hira and Thawr caves, Muzdalifah, Jabal al-Noor (Mountain of Light), and Mount Arafat.
After completing the religious rituals in Mecca, the pilgrims proceeded to Medina, where they got to learn about the life of Prophet Muhammad (Peace Be Upon Him), pay their respects at his shrine, and see places he visited during his lifetime, such as Jabal al-Rumah (Archers' Mountain), Mount Uhud, Al-Baqi cemetery, Quba Mosque, Masjid al-Qiblatayn (Mosque of the Two Qiblas), and Al-Masjid an-Nabawi (The Prophet's Mosque).
During the trip, the children got to hear fascinating stories from Islamic history, including the account of Prophet Muhammad's (Peace Be Upon Him) migration from Mecca to Medina (hijra), and test their knowledge in educational contests.