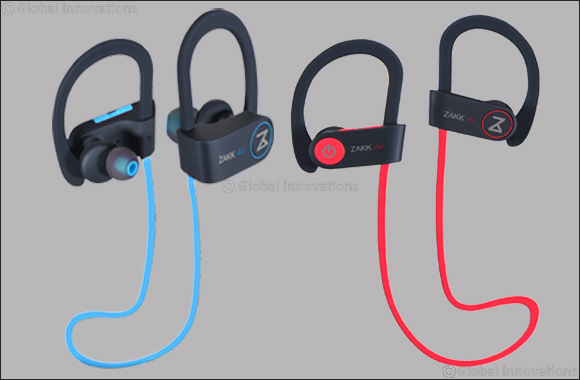 Designed by athletes, the most technically advanced wireless headset brings superior sound with secure and comfortable fit for all active lifestyles
With a life of up to five hours, the ZAKK Air user can even run a marathon listening to music
DUBAI, UAE– January 09, 2018: ZAKK, a global lifestyle brand under Kamon International, announces the launch of the ZAKK Air, a technically-advanced wireless headset for athletes in the UAE. The ZAKK Air is designed by athletes to provide optimal comfort and freedom, even during high impact activities. With a battery life of up to five hours the user can even run a marathon listening to music.
ZAKK is a global lifestyle brand aimed to enhance the experiences and lives of people from multi-cultural backgrounds.
Tested by athletes, the ZAKK Air presents unbeatable, in-ear, easy-to-connect Bluetooth technology to reach your personal best. The product combines sophisticated style, powerful sound and increased comfort, packing premium features for calls and music that fit for all active lifestyles.
Commenting on the launch of the ZAKK Air headsets, Mr. Karan Saini, Head of Marketing at ZAKK, said, "We are happy to launch the ZAKK Air advanced wireless headsets that ensure true performance for sport enthusiasts. With this innovative wireless headphone, users can take their physical training to the next level. The device produces invigorating music to keep the users motivated so they don't feel like stopping. The ZAKK Air is ideal for any activity as these headphones have been designed for athletes, tested by athletes and have impressed athletes."
"We at ZAKK aim to make the best use of technology and bring high quality products to our customers. ZAKK Air will create a true wireless freedom for fitness-freaks in the UAE. Tested to deliver absolutely the best quality for calls and music, the ZAKK Air ensures that no external sound distracts its users," he added.
The ZAKK Air is priced at AED 199 available in red and blue colour variations. The product is made with reliable and strong materials, offers water and sweat protection, stability, exceptional dynamic speaker mechanics, long battery life and maximum ease-of-use.
Key specifications:
Bluetooth 4.0
10 - meter Bluetooth connectivity range
Battery capacity 3.5V/100 mAh
Play time approximately 5 hours
Charging time approximately 2 hours
Built in mic
The ZAKK brand encompasses more than 100 products - ranging from wearable devices such as smart watches, health bands and Bluetooth devices to headphones, earphones, speakers, projectors, virtual reality headsets, power banks and storage devices.
All ZAKK products start their life cycle in Dubai. It is during this process that ZAKK products are rigorously tested before being passed on to its manufacturing units in China, India, South Korea and Taiwan.