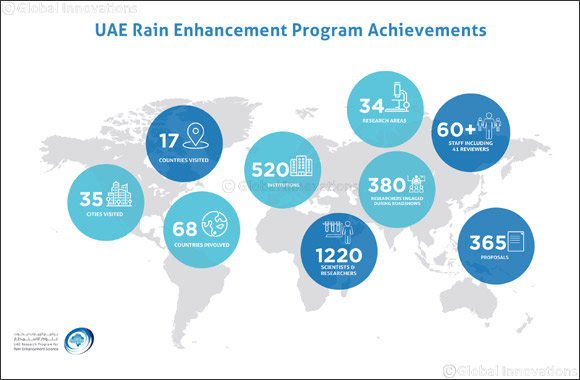 Internationally prominent research Program marks significant progress in its efforts to innovate new water security solutions
Dr Abdulla Al Mandous: "Our Program has grown to the extent that it is now truly global in size, scale and substance"
Abu Dhabi-UAE: 3 January 2018 – The UAE Research Program for Rain Enhancement Science (UAEREP) is set to celebrate three years of outstanding achievements that have positioned the Program as a global leader at the forthcoming Abu Dhabi Sustainability Week (ADSW) 2018.
Under the patronage of His Highness Sheikh Mansour bin Zayed Al Nahyan, Deputy Prime Minister of the UAE and Minister of Presidential Affairs, the awardees of the Third Cycle of the Program will be announced and honored on 17 January at an exclusive ceremony held as part of ADSW at the Abu Dhabi National Exhibition Centre (ADNEC).
His Excellency Dr Abdulla Al Mandous, Director of the National Center of Meteorology (NCM), said: "Over the years, our Program has grown to the extent that it is now truly global in size, scale and substance. In doing so, it has enabled the United Arab Emirates to gain significant international recognition in its quest to become a hub for knowledge and excellence in the science and technology of rain enhancement. By taking a global lead in advancing this crucially important scientific field, the UAE has once again demonstrated its inspiring and generous vision and commitment to seeking innovative solutions for those confronting the challenge of water stress."
ADSW 2018 will also host the second edition of the International Forum on Rain Enhancement Science from January 16-18, 2018. The Forum provides a platform to discuss the newly awarded Third Cycle research projects and overview the progress and recent advances made by the First and Second Cycle projects. Last year's event brought together leading international experts to exchange insights on the latest research in the field.
Alya Mazroui, Director of the UAE Research Program for Rain Enhancement Science, said: "Since its inception, our Program has reached out to engage actively with an international audience of scientists and research institutions and established a global hub of research and excellence in rain enhancement. Our awardees are already paving the way for the application of new science and technologies in regions facing water stress around the world. Through the UAE Research Program for Rain Enhancement Science, we will continue to drive the innovation needed for the solutions that will ensure a better quality of life for all at risk of water stress in arid regions around the world."
Since it was launched, the UAE Research Program for Rain Enhancement Science has established itself as a cluster of research excellence and a focal point for international collaboration on the creation and application of new science and technology related to clouds and rainfall.
The Program's First Cycle awardees, based in UAE, Japan and Germany, are already carrying out ground-breaking work on innovative algorithms, nanotechnology to accelerate water condensation and land cover modification to enhance precipitation. They were joined in 2017 by the Program's Second Cycle awardees, featuring leading researchers from the US, Finland and the UK, working respectively on ice production processes in clouds, the role of atmospheric aerosols in precipitation enhancement, and prospects for using the electrical properties of clouds to alter their composition.
From its inception, the Program initiated an ambitious international outreach campaign that has so far linked 1,220 researchers and 520 institutions from more than 50 countries. The key global institutions engaged by NCM through international roadshows include the United Nations, the European Commission and the World Meteorological Organisation (WMO). In addition, the Program has also built enduring connections through its roadshows with researchers and stakeholders at numerous governmental and private research institutions in countries ranging from the United States to the UK and Germany in Europe to Thailand, China and Japan in East Asia.
The UAE Research Program for Rain Enhancement Science's outstanding success in driving global rain enhancement research was demonstrated by the overwhelming international response to its Third Cycle call for submissions in early 2017: a total of 201 research pre-proposals were received, which incorporated the latest ideas from 710 researchers, scientists and experts belonging to 316 research institutions, located in 68 countries, and spread across five continents. This achievement represented a rise in the number of participating researchers by 100 percent and pre-proposal submissions received by 121 percent compared to the previous year's cycle.
Managed by the NCM, the UAE Research Program for Rain Enhancement Science is a global initiative offering a grant of US$5 million shared by up to five winning research proposals.The success of the Program has positioned Abu Dhabi and the UAE as an international center of excellence in this scientific field.
By serving as a hub for global innovation, the Program will continue to facilitate active knowledge transfers and support the growth of innovation-based sectors in the UAE and beyond to provide sustainable solutions for regions facing water stress.