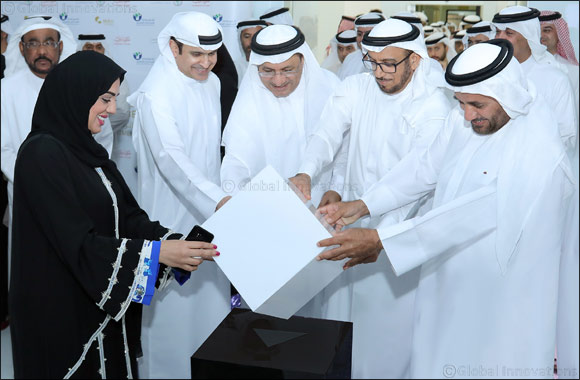 'Cube' gathers 15 service centres under one roof and completes procedures in one day instead of 10
[Dubai, United Arab Emirates, 20 December 2017]: Dubai Land Department (DLD) has launched 'Cube', a new customer service centre on the third-floor of its headquarters, to provide real estate investors with exceptional services. 'Cube' has been established in collaboration with a number of key partners including the General Directorate of Residency and Foreigners Affairs in Dubai, the Dubai Police General Command, the Dubai Health Authority, the Department of Economic Development in Dubai, and the Federal Authority for Identity and Citizenship.
In line with the vision of His Highness Sheikh Mohammed bin Rashid Al Maktoum, Vice President and Prime Minister of the UAE and Ruler of Dubai, DLD is upgrading its services to reach a seven-star level. The department is keen to satisfy its customers and meet the aspirations of investors by providing them with the very highest standards of service. The 'Cube' project also contributes to positioning Dubai as the best place to live and work, attracting foreign capital, and encouraging direct and indirect investment in support of Dubai's economy.
Her Excellency Majida Ali Rashid, Assistant Director General and Head of the Real Estate Investment Management and Promotion Center at DLD, commented: "We have established 'Cube' In line with the directives of our wise leadership to further develop our services. We will achieve this through our continuous efforts to provide the highest quality services to real estate investors in one location, allowing them to complete all of their procedures easily and conveniently. The project is aligned with our future strategy and our vision to make Dubai an innovative and sustainable global real estate environment, as well as the happiest city in the world, thanks to its intelligent and accessible services."
Majida added: "This initiative is a major step in our approach to providing all real estate services in a way that ensures an easy and efficient investment experience for our customers. As 'Cube' provides all services for all official entities under one roof, we are confident that it will achieve its objectives, the most important of which is providing unprecedented levels of service to customers who wish to benefit from Dubai's unique investment environment."
'Cube' reduces both effort and time for real estate investors by providing all services in one location, rather than the previous 15, and by completing procedures in one working day rather than the previous 10. The centre will include all government and private entities, such as the General Directorate of Residency and Foreigners Affairs, the Department of Economic Development in Dubai, the Federal Authority for Identity and Citizenship and the Dubai Police General Command, as well as medical centres, printing offices and insurance companies.