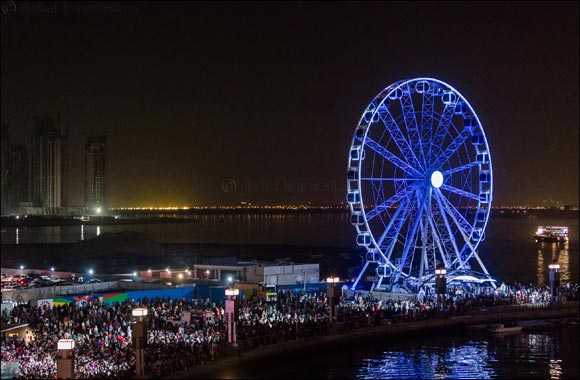 One of the most photographed vistas in Dubai, now includes popular attraction offering unparalleled views
Dubai, UAE, 18 December 2017: Dubai Festival City Mall has announced a spectacular new attraction - the Festival Wheel, has arrived on Festival Bay for thousands of visitors to enjoy year round. Dominating the Dubai Creek skyline, the new Festival Wheel with 30 capsules and standing 40 metres high, offers its visitor's spectacular views of the city.
Open seven days a week from 2pm to mall closing, the Festival Wheel is an ideal family attraction. With clear sight across the creek during the day, a stunning sunset and a view that transforms in the evening with the record-breaking show IMAGINE, it is set to be one of the most popular spots in Dubai.
According to Steven Cleaver - Director, Shopping Centres Dubai, Al-Futtaim Group Real Estate, "The opening of the Festival Wheel adds another dimension to our already bustling Festival Bay. With a full calendar of activity lined up for the next couple of months and a wide selection of waterfront dining options, there is always a new experience for shoppers at Dubai Festival City Mall."
Located on the south side of Festival Bay, the Festival Wheel is just AED 40 for adults and AED 25 for children under 12. A family pass for AED 100 entitles 2 adults and 2 children. A VIP cabin, with a glass floor and plush leather seating for up to six people, is available to book for AED 300.