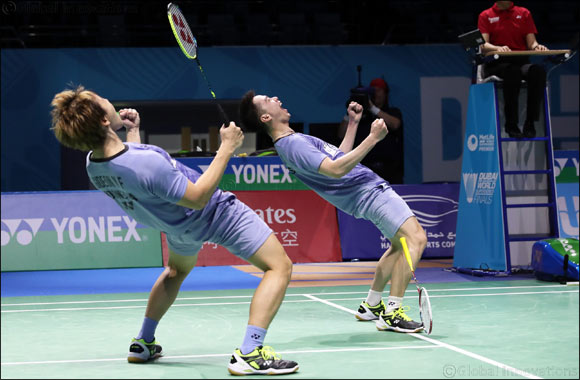 December 17 2017, Dubai, UAE: Defending champion Viktor Axelsen reached his third straight Men's Singles final at the Dubai World Superseries Finals with a demolition job of China's Shi Yuqi in front of an appreciative and vocal crowd today.
In the final tomorrow at Hamdan Sports Complex, Axelsen faces familiar foe Lee Chong Wei (Malaysia), a four-time champion at the World Superseries Finals but who has never triumphed in Dubai.
The Women's Singles final will see India's Pusarla V Sindhu against Japan's Akane Yamaguchi.
Yamaguchi's in-the-trenches resolve saw her fight out of trouble against Thailand's Ratchanok Intanon. The Japanese had a mountain to climb at 11-16 in the third game of an engrossing semi-final against Intanon, but staged a magnificent rearguard action to outlast the Thai 17-21 21-12 21-19 and make her first Dubai final.
Pusarla had her hands full against an opponent who was always in the right place at the right time. It was the Indian who had to do all the hard work, but the progress was incremental – Pusarla stitching up a lead, only to see Chen pulling close.
At a game and 15-11, the Indian had found momentum, but Chen was tenacious, and with every rally, Pusarla started to flag under the pace. A 57-shot rally found Pusarla bent over, with Chen narrowing the lead to 17-19; but the Chinese teen showed her inexperience and faltered on the last couple of points to enable the Indian to slip away at 21-15 21-18.
"It was a good quality match, even though it was over in straight games, there were a lot of long rallies. I'm happy to be the first Indian in the Women's Singles final here; I would like to become the first Indian to win the title as well!
Viktor Axelsen made his third straight final with a crushing 21-12 21-8 result over China's Shi Yuqi.
Axelsen stamped his dominance on the match from the beginning, showing greater intent than he had during his loss in the group match to Shi. The big Dane was all hustle, creating openings and killing the shuttle with precision.
"It was a new day; unfortunately it seems like he suffered a bit," said Axelsen. "I'm happy with the way I played. I felt a little bit (strain) in my back at the end of the second game, but it's okay now. I accepted that I might not be 120 percent. I've been in the final three times now, I hope I can make it two wins. I'm happy to be here, it's an awesome place, and I'm enjoying it."
Lee Chong Wei had blown a big lead against Son Wan Ho yesterday in their group clash; today the Malaysian did not give his opponent an inch.
The four-time champion was all business throughout; the closest Son got was at 12-14 in the first, after which Lee steadily pulled ahead. It was even more one-sided in the second game, and Lee completed proceedings in 49 minutes at 21-17 21-11.
Fans had more than their share in the exciting doubles semi-finals too. Japan had the greatest reason to celebrate on semi-finals day as that nation impressively laid claim to the Women's Doubles title, with Shiho Tanaka/Koharu Yonemoto and Yuki Fukushima/Sayaka Hirota advancing to the championship match.
Justifying their top billing in the Destination Dubai Rankings, two of the season's stellar partnerships calmly brushed aside their respective opposition to ensure Japan will win the coveted honour. Fukushima/Hirota started the ball rolling, smoothly ousting China's Huang Yaqiong/Yu Xiaohan, 21-13 21-14, and were later followed by Tanaka/Yonemoto. The latter withstood Denmark's Kamilla Rytter Juhl/Christinna Pedersen, 21-19 21-19; the Danes fighting all the way despite admitting they were below par.
Meanwhile, driven by their sheer will to succeed, Gideon and Sukamuljo fought off arch-rivals, Takeshi Kamura and Keigo Sonoda, in a high-calibre shoot-out that had screaming spectators on the edges of their seats as momentum swung back and forth until decisively turning towards the 'Minions' after the third-game interval. Livewire Sukamuljo terrorised the Japanese in the front court to seize the ascendancy, his lightning-quick interventions all but securing the 21-10 18-21 21-16 triumph in which he and Gideon deliriously delighted.
"We are very happy to get to our ninth Superseries final. It was a tough match and we had to try different strategies," said Sukamuljo, ecstatic to avenge their round-robin loss to the same pair.
The recently-crowned BWF Male Players of the Year will face World champions, Liu Cheng and Zhang Nan, for the title. The Chinese titans calmly held off a spirited, if inconsistent, challenge from evergreen Danes, Mathias Boe and Carsten Mogensen, winning 21-17 21-16.
China will have their eyes on the Mixed Doubles prize also. Defending champions, Zheng Siwei/Chen Qingchen, romped to their second successive Dubai showdown, dismissing Tontowi Ahmad/Liliyana Natsir, 21-12 21-17. The Chinese were pleased to beat the Olympic and World champions to whom they have lost some key matches this season, including the World Championships final as well as title-deciders in France and Indonesia.
Across the net from them tomorrow will be Hong Kong's Tang Chun Man/Tse Ying Suet whose rising stock soared even higher with a strong comeback versus another Chinese tandem, Wang Yilyu/Huang Dongping. Tse, who was clinical at net in the dying stages of the third game, was almost lost for words in the aftermath of their 18-21 21-18 21-17 success.
The finals will be played on Sunday from 1pm -8pm in the following order: Mixed Doubles, Women's Singles, Men's Doubles, Women's Doubles, Men's Singles.