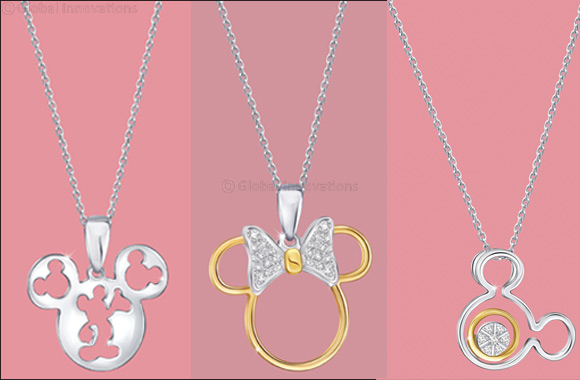 New Disney collection - comprising of 32 unique pieces inspired by Mickey Mouse and Minnie Mouse, Winnie the Pooh, Queen Elsa from Frozen, and many more beloved characters - to launch exclusively at Pure Gold Jewellers on December 17
Dubai, UAE. 16 December 2017 – There's nothing quite as iconic as Disney, or as recognisable as Mickey Mouse, and now, with the launch of Pure Gold Jewellers' exclusive new Diamond Collection in association with Disney, you can enchant with your own piece of Disney magic.
The new collection will be available exclusively in Pure Gold Jewellers' stores across the UAE and GCC from December 17, priced from AED 999, and will comprise of 32 unique pieces inspired by Mickey and Minnie Mouse, Winnie the Pooh, Queen Elsa from Frozen, and many more beloved characters. Made from 18 karat yellow and white gold, the unique pieces are studded with diamonds and coloured stones, and all bear Pure Gold Jewellers' certificate of authenticity.
Speaking about the new collection, Pure Gold Jewellers' Group CEO and Marketing Director, Karim Merchant said, "Disney has been at the forefront of worldwide entertainment for decades and the new collection is comprised of iconic pieces that take inspiration from some of the greatest characters ever to have graced the screen. Pure Gold Jewellers is proud to be a valued partner for Disney, and to present these specially designed and exclusive pieces that are sure to be prized by Disney fans."
Attracting a wide array of customers from all over the globe, Pure Gold Jewellers will soon add to their dominance in Asia and the Middle East, as the company plans to open a further 50 stores worldwide. This partnership recognises Pure Gold Jewellers innovative and rapid expansion, and highlights the exceptional quality they have become renowned for by aligning with a brand that has captivated audiences on a global scale for decades. Launching on December 17, the Pure Gold Jewellers' Disney Collection encapsulates the timeless elegance of some of the world's most renowned characters, enabling you to enchant with your own sparkling piece of Disney magic.