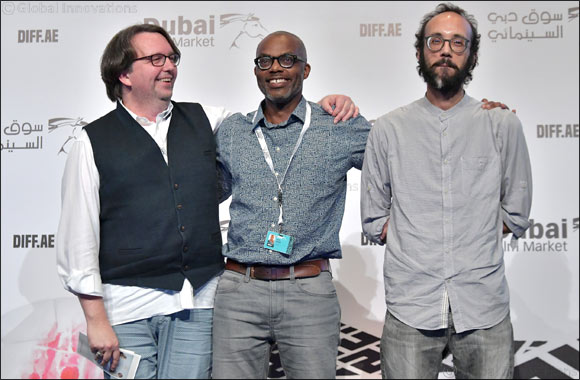 Mohamed Ismail Laouti's The Syrians nominated to progress to the next round of the Film Prize of the Robert Bosch Stiftung

Dubai, 11th December, 2017: The Dubai International Film Festival, renowned for its ongoing support of local and international cinema, and its commitment to recognising and rewarding incredible filmmaking talent, presents the Robert Bosch Stiftung – the latest initiative to grace the Festival's 14th edition.
Each year the Robert Bosch Stiftung issues three Film Prizes for international cooperation to teams of upcoming German and Arab filmmakers to realise a joint film project. The prizes are awarded across three categories; short animation, short fiction and feature documentary – with the winner receiving an award of 60,000 Euros. More than just a prize-giving initiative, the Robert Bosch Stiftung offers a multitude of tailor-made workshops as part of a year-long training programme to develop the projects with film experts. This incredible initiative not only grants filmmakers first-hand experience working in international co-production, but also offers new perspectives on production models and learning from different creative cultures of colleagues and industry professionals.
Operating as a gateway to the international festival circuit, projects are exposed to various film markets, benefitting from already-established platforms to develop their profile and establish their own networks. This year, in connection with DIFF, the Robert Bosch Stiftung has selected The Syrians byMohamed Ismail Laouti, a documentary project from the Dubai Film Connection for nomination to the next round of the Film Prize of the Robert Bosch Stiftung.
The project, which was chosen to be part of the Film Prize of the Robert Bosch Stiftung, will be revealed at the DFC awards ceremony on the 10th of December, 2017. The winning team will participate in the year-long training programme to be prepared for the pitch in front of an international jury, who will then award the three Film Prize winners. The Film Prize's award ceremony will be held in the framework of Berlinale Talents of the Berlin International Film Festival in February 2019.
The Robert Bosch Stiftung and the DFM will then work together to select, among the Film Prize Nominees, a project during Berlinale Talents in February 2018, and invite it to showcase at DIFF in December 2018 when the Festival returns for the 15th Edition.
Shivani Pandya, DIFF's Managing Director, will announce the selected project at the Robert Bosch Stiftung's award ceremony during Berlinale Talents 2018.