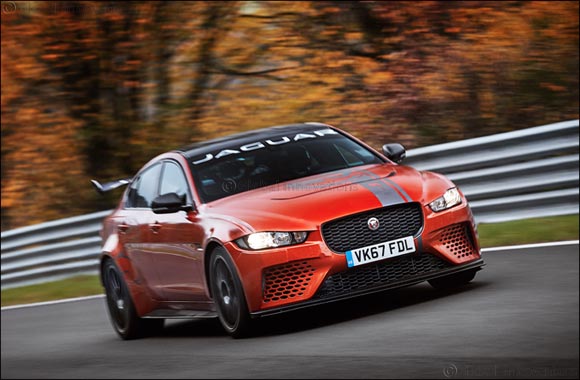 600PS Jaguar XE SV Project 8 laps Nürburgring Nordschleife in 7min 21.23sec – the fastest time ever by a saloon of production-intent specification
Most extreme performance road-legal Jaguar – designed, engineered and hand-assembled by SVO – is capable of 0-60mph in 3.3sec and a top speed of 200mph*
Watch XE SV Project 8 prototype's record 7min 21.23sec lap of the Nürburgring Nordschleife
Production limited to 300 units for sale worldwide, priced from £149,995 in UK.
Monday 4 December 2017, Dubai, United Arab Emirates: Jaguar's SVO-developed XE SV Project 8 is now the world's fastest four-door saloon car, following a production-intent prototype's record lap of the Nürburgring Nordschleife. The incredible time of just 7min 21.23sec is 11 seconds quicker than the previous fastest sedan around the 12.9-mile circuit and puts the 600PS Project 8 ahead of some of the world's fastest two-door coupes and supercars.
Mark Stanton, SVO Director, said: "The SVO design and engineering team's mission was to create the most track-focused road-legal Jaguar in history – not only the fastest, but also the most agile. As a result, only the roof and front door skins of Project 8's body are carried-over unaltered from XE and 75 per cent of its mechanical hardware is new. This astonishing Nürburgring Nordschleife record validates the success of such extensive changes."
John Edwards, Jaguar Land Rover Special Operations Managing Director, added: "SVO exists to push the boundaries of performance, luxury and all-terrain capability. The hand-assembled XE SV Project 8 takes that principle to the limit, extracting supercar-beating performance from Jaguar's most compact four-door sedan. The Nürburgring Nordschleife record underlines our commitment to deliver the most extreme Jaguar ever to Project 8 clients, who will soon experience this sensational sedan for themselves."
*Figures are manufacturer's estimates and subject to final confirmation ahead of production