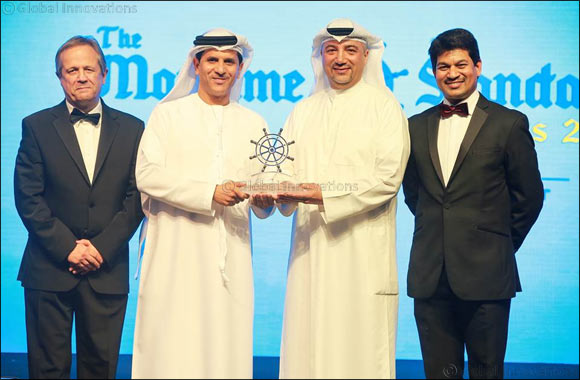 Abu Dhabi, UAE – 28 November 2017: Abu Dhabi Ship Building (ADSB) recently received two highly prestigious awards reflecting the high quality of its business operations and commitment to corporate social responsibility.
At the 14thedition of the Seatrade Maritime Awards covering the Middle East, Indian Subcontinent and Africa, ADSB won the "Enterprise Award" for its contributions to the region's ship repair industry. The company also received the "Corporate Social Responsibility (CSR) Award" at the fourth annual Maritime Standard Awards in Dubai.
The "Enterprise Award" recognizes the valuable contributions made by ADSB's floating dock to the ship repair industry in the region. "The Corporate Social Responsibility (CSR) Award" recognizes and celebrates success in the shipping, ports and related sectors across the Middle East and Indian Subcontinent. ADSB's CSR strategy has been a key component in the shipyard's transition to a modern, highly efficient, productive and profitable shipbuilding and repair yard. Environmental sustainability and workforce welfare are essential elements of this transformation process, and the CSR program prioritizes the improvement of the working environment for all employees, in and out the yard.
Commenting on the awards, Dr. Khaled Al Mazrouei, CEO of ADSB said: "Abu Dhabi Ship Building has always prided itself on the quality of its business operations and dedication to CSR. From being a humble, specialist naval shipbuilder and repairer, ADSB now features as an efficient, world-class, technologically advanced production and service facility that is run by a highly-motivated workforce and a growing global agent network. These achievements will only inspire us to explore more innovative and creative solutions as we begin to enter our next phase of growth."
ADSB's Mina Zayed-based floating dock operations have remained busy over the course of this year. For the last three months, the dock has observed a 100 per cent occupancy rate. The floating dock has also gained momentum as a business generator by benefitting at least 25 third-party service providers, thereby generating more employment opportunities in the UAE.
In the shipyard, state-of-the-art robotic hydro-blasting machines, the first of their kind in Abu Dhabi, have replaced the traditional copper grid blasting equipment. This upgrade has virtually eliminated air pollution around the floating dock facility in Mina Zayed.
ADSB recorded a strong performance in 2016, which saw revenue rise to AED 927.8 million and profit by over 11 per cent compared to 2015. Last year, the shipyard received 592 enquiries for drydocking and repair projects, and completed 286, surpassing previous records. The introduction of efficient production management and control systems, as well as an inspired and motivated workforce, have been the main contributing factors to ADSB's success. This upward trend is continuing and in 2017, ADSB's drydocking and repair project portfolio grew by 156 per cent. Vessel types included tankers, tugs, jack-up rigs, barges and the company's first-ever chemical tanker.