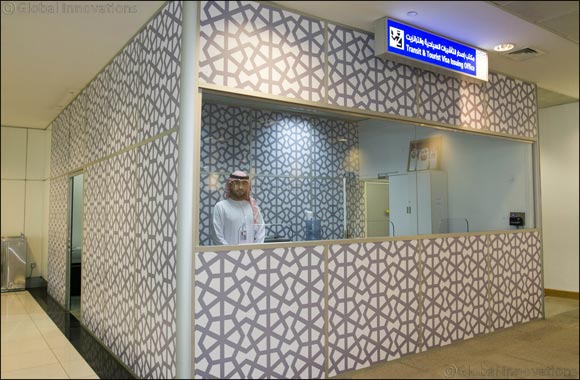 New Visa Counter to issue transit and tourist visas to arrival and layover travellers in 30 minutes
96-hour transit visa a chance to explore Abu Dhabi
Abu Dhabi, 27th November 2017: The Department of Culture and Tourism – Abu Dhabi, jointly with Abu Dhabi Airports, Etihad Airways and General Directorate of Residence and Foreigners Affairs - Abu Dhabi, announced today the launch of a new visa counter to facilitate the visa application process and grant both transit and arriving passengers visas to Abu Dhabi within 15 to 30 minutes. The new service, located at the Terminal 3 transit area at Abu Dhabi International Airport (AUH), includes activation of the new four-day, or 96-hour, transit visa for all nationalities travelling through Abu Dhabi International Airport.
The launch of the new visa counter is part of the Life in Abu Dhabi initiative, in support of the Enriching Tourist Experience. Established in May 2017 as part of the Government Services Office at Abu Dhabi Executive Office, Life in Abu Dhabi is an annual gathering aimed at developing a number of public sector services for the government of Abu Dhabi.
The new counter will issue several types of mission and tourist visas available to travellers who do not fall under the current visa upon arrival scheme. Passengers can now approach the visa counter in T3 to apply for, and obtain the relevant visa within a maximum 30 minutes.
In addition, the visa counter is now issuing the new 96 hour transit visa, which is a key part of Abu Dhabi's ongoing efforts to attract more visitors to the capital. This project is being jointly implemented by several parties including Abu Dhabi Executive Office, Abu Dhabi Airports, General Directorate of Residence and Foreigners Affairs - Abu Dhabi, Etihad Airways and Department of Transport in Abu Dhabi.
The AED 300-visa can be used by passengers with planned trips from AUH, or with intermediate flights through Abu Dhabi en route to their destination if their layover exceeds four hours. The transit visa can be applied for both at the new visa counter on arrival, or through the online designated portal, provided passengers meet the application criteria. Travellers can also request to change their transit visa to a tourist visa at the airport if they are planning to extend their stay in the capital.
Brigadier Mansour Ahmed Ali Al Dhaheri, Director-General of Residency and Foreigners Affairs - Abu Dhabi, said his department had facilitated the registration process for tourism companies and held several workshops for companies and entities working in the tourism sector.
He said: "The launch of the new entry visa system strengthens the country's efforts to maintain its regional leadership and position on the global map in the fields of tourism, economy and education. The benefits of the advanced system cover several areas aimed at advancing competitiveness. The new system offers several benefits including the unification of work standards and procedures, as well as equipping health, education and tourism sectors with advanced, modern laws and regulations."
Abdul Majeed Al Khoori, Acting Chief Executive Officer at Abu Dhabi Airports, commented: "We are very excited to cooperate with our stakeholders and launch this new offer to our travelers. The 96 hour visa will be instrumental to attract the large number of transfer passengers to experience Abu Dhabi and its vast offerings during their stopover. As the main gateway to the capital, Abu Dhabi International Airport strives to support its partners within Abu Dhabi to present this iconic city as a prominent and attractive destination on an international scale."
HE Saif Saeed Ghobash, Director General, Department of Culture and Tourism – Abu Dhabi: said: "We are pleased to see the result of these joint efforts with our key partners. The visa counter at AUH will further enhance the tourist experience when visiting Abu Dhabi. In addition, the newly launched 96 hour transit visa will facilitate the passenger experience of over 15 million (as per 2016 numbers) travellers who transfer through our airport every year. We can now process their requests for a transit visa in just 30 minutes. This initiative will enhance Abu Dhabi's accessibility to more passengers from around the world and invite them to discover the Emirate, which has quickly become a destination of distinction for its rich cultural experiences and exciting family-friendly activities. The new transit visa scheme is aligned with our strategic plans to leverage every available opportunity to boost the tourism sector, which is a key contributor to the country's economic diversification plans."
Ghobash added: "Whether travelling for business or leisure, we want to enrich the journey of all passengers and as such, are working with partners from the private and public sectors to design and promote tailored tours of Abu Dhabi for stopover guests. Finally, we would like to thank all our partners for their support and efforts in launching this initiative."
The move is expected to drive an increase in the number of hotel guests from around the world to all three regions of Abu Dhabi. October 2017 figures revealed an 18 per cent increase in visitor numbers compared to the same month last year, with 418,883 domestic and international visitors checking in to one of the Emirate's 163 hotels or hotel apartments. October's rise has maintained the Emirate's eight per cent increase over the year in terms of the numbers of hotel guests, and this number is on track to surpass the 2016 total of 4.4 million guests.
Mohammad Al Bulooki, Etihad Airways Executive Vice President – Commercial, said: "Etihad Airways' mandate is to promote and support Abu Dhabi's Vision 2030, and that means raising the city's profile on the world stage as a leading leisure and cultural destination, which has recently been greatly enhanced by the opening of the iconic Louvre Abu Dhabi museum.
"The new transit visa is a great initiative for the emirate and for visitors, as now everyone is able to take advantage of Etihad Airways' unique stopover offers, which feature a range of benefits including at least one night's accommodation for any guest transiting through Abu Dhabi. This is a great way for visitors to create a 'holiday within a holiday', or simply break a long trip with a relaxing city break and enjoy the many attractions Abu Dhabi has to offer."
Etihad Airways' popular stopover programme is a perfect option for travellers on a 96 hour transit visa, providing great deals on hotels and various activities around Abu Dhabi.
Guests who wish to take advantage of the stopover programme can book a two-night stay from a choice of over 60 participating hotels in Abu Dhabi, and will receive the second night free. Business Class guests receive a complimentary night's stay, while First Class guests receive two free nights. Etihad Airways' guests flying in The Residence cabin onboard the airline's flagship Airbus A380 will be treated to two complimentary nights at the luxurious Emirates Palace hotel during their stopover.
Travellers visiting Abu Dhabi in the next couple of months can explore an array of exceptional family-focused experiences planned around the festive season. The newly-launched 'Dar Al Zain' Festival starting 14 December and held over 10 days, will bring an exceptional family entertainment and leisure experience to travellers, giving them a taste of the Al Ain Region and all it has to offer.
Additionally, the annual Abu Dhabi Food Festival 2017 will unite visitors around 15 events and experiences extending over 17 days, catering to palettes from all over the world. Lastly, transient guests entering the capital between 28 to 31 December can enjoy the New Year's Eve Countdown Village with a one-of-a-kind fireworks experience that will see in the New Year. The celebration will offer a distinctive flavour through a range of famous names across kids' shows, DJs, concerts and local bands.
Previously, the transit visa was only available for citizens of certain countries while other passengers had to apply though the official channels prior to their arrival to the capital. The transit visa cost was also reduced to AED 300 thus enabling more passengers to explore Abu Dhabi and enjoy its top attractions. Travellers can also request to change their transit visa to tourist visa if they are planning to extend their stay in the capital.