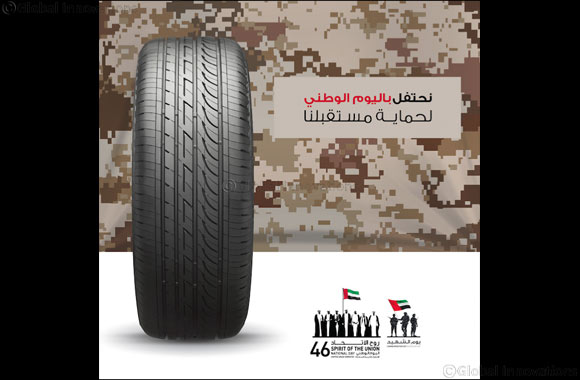 Dubai, United Arab Emirates, 26 November, 2017: In celebration of the UAE National Day, Bridgestone has announced a special offer on its range of tyres exclusively for Homat Al Watan card holders.
Bridgestone, being part of the UAE community, is celebrating this special day with the entire nation, and especially those serving in the army and police.
Commenting on the offer, Berna Akinci, General Manager Marketing at Bridgestone said: "As we celebrate National Day together, this special offer for army and police personnel is our way of saying 'thank you' to the brave men and women who keep us safe. But, it's also our way of helping them stay safe on the road with a great saving on a fresh set of high performing tyres."
As part of its ongoing commitment to providing tailored deals to its consumers, Bridgestone continues to work closely with different entities across the country to have offers such as these that caters to the needs and requirements of both the UAE citizens and residents.
The offer began on Saturday 25th November and closes on Sunday 3rd December and can be claimed at FirstStop, QuickPit, Al Masaood Bridgestone and Al Serkal Bridgestone owned stores across the UAE*. Currently, Bridgestone, in association with their distributors, operates 16 FirstStop stores and 5 QuickPit stores across the United Arab Emirates.