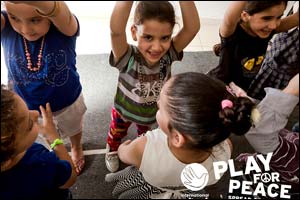 Dubai Nov-2017: This Christmas, The Body Shop invites you to PLAY FOR PEACE.
Forget adulting. Switch off, slow down and make time to play. Embrace togetherness through festive fun and games. Spread positivity by playing it forward in the most world-enriching way.
The Body Shop is upping its game this year with an exciting new Christmas gift collection that's full of surprises…
The gifts transform into GAMES, so that you can switch off and enjoy the simpler things in life. From quizzes and spinners, to mazes and dice, there are so many hidden levels to the multi-tasking festive collections.
And by playing along with The Body Shop this Christmas, you'll also be supporting the PEACE PLAY PROJECT. Every gift you purchase from The Body Shop's seasonal collection helps refugee children to play in a safe place for a year.
ARE YOU GAME?
The Body Shop has teamed up with International Alert to help refugee children to be children again. Their mission is to build a more peaceful world. One where everyone can live a happy and safe life. One focus of their work is helping refugee children from Syria to smile again. Every gift you purchase from The Body Shop's seasonal gift collections will support the Peace Play Project in Lebanon for a year, which provides a safe space for children to play and heal.
Through play, these children can explore and express difficult emotions, make sense of their experiences and learn how to interact more positively with their peers as well as adults in their lives. The therapeutic activities will take place in safe-haven community centres, away from the weight and pressures they face day to day.
So while you're treating yourself or someone special to a beauty-full Christmas, do it with pride knowing that you're helping some of the world's most vulnerable children to smile again.
Christmas Gifts
COUNTDOWN LIKE CRAZY
Countdown to New Year with The Body Shop
The Body Shop is super-excited to announce this innovative new must- have. Opening presents doesn't have to stop at Christmas Day anymore with this star-filled gift. Take the beauty countdown all the way to New Year's Day with a truly unique calendar, filled with all the pampering essentials you need before and after the celebrations. There's a beauty favourite for you to discover every day from Christmas to the New Year – the ultimate pick-me-up to keep that party feeling going. From Matte Lipstick and Glitter Dust to the Himalayan Charcoal Mask, prepare to party like you mean it and countdown in style.
Values Gift Robot Money Box,
Who could resist this colourful character and all the fruity surprises inside? Filled with Coconut Shower Gel 60ml, Coconut Lip Butter 10ml, Mango Shower Gel 60ml, Mango Lip Butter 10ml, Strawberry Shower Gel 60ml and Strawberry Lip Butter 10ml. As a gift from The Body Shop's seasonal collections, his sales help children affected by war to play in a safe place for a year. But the giving doesn't end there. He also turns into a moneybox – perfect for teaching little ones to save and donate to a great cause.
SHOW-YOUR-GAME-FACE SKINCARE
Masks Sampler Set
Get stuck into the multi-masking trend and discover new favourites with this taster collection. And the experience wouldn't be complete without the super-cute Bunny Headband to keep your hair in check. Wear them with pride in support of our Forever Against Animal Testing campaign.
Find out more here:
THE BODY SHOP® X HOUSE OF HOLLAND
The Body Shop has teamed up with fashion favourite House of Holland to bring you an exclusive capsule gift collection.
"I grew up with The Body Shop products in our house and my sister's first perfume was White Musk®, so to be asked to work with them on the project was so exciting. To be able to inject a dose of House of Holland to such an iconic brand was a pleasure to do." Henry Holland
THE BODY SHOP x HOUSE OF HOLLAND LIMITED EDITION WHITE MUSK ® DELUXE GIFT SET,
With exclusively designed packaging from House of Holland, The Body Shop's iconic White Musk® cruelty-free fragrance has been given the freshest new look for Christmas. Inside you'll find the EDT 60ml, Body Lotion 250ml, the Shower Gel 250ml and a gift-exclusive fragrance pomander.
THE BODY SHOP x HOUSE OF HOLLAND LIMITED EDITION WHITE MUSK ® EDT GIFT SET,
With the same standout design as the deluxe edition, but with cute minis inside, discover the EDT 60ml, Body Lotion 60ml and the Shower Gel 60ml – perfect for travelling over the festive season.
The Body Shop X House of Holland Limited Edition Truth or Dare,
Truth or dare? This colorful cube is filled with juicy surprises, including Strawberry Shower Gel 60ml, Mango Shower Gel 60ml, British Rose Shower Gel 60ml, Coconut Shower Cream 60ml and a bath lily.
The Body Shop X House of Holland Limited Edition Kiss Me Cube,
Filled with four fruity lip butters, including Strawberry, Shea, Mango and Coconut, all contained in this little magic cube.
The Body Shop X House of Holland LIMITED EDITION WONDER CUBE,
This enticing box of surprises cleverly transforms into an addictive game. Filled with a collection of feel-good favorites, including Vitamin E Moisture Cream 50ml, Spa of the World™ Kukui Cream 50ml, Honey BronzeTM Highlighting Dome 02, Festive Soaps, Bunny Headband, Mango Body Scrub 50ml, Gold Glitter Dust and the Polar Bear Eye Mask.
THE BODY SHOP x HOUSE OF HOLLAND LIMITED EDITION BRUSH COLLECTION,
Inside this totally on-trend gift you'll find four vegan make-up brushes, all made from FSC sustainably sourced wood, including the Foundation Buffing Brush, Eye Shadow Blending Brush, Angled Blush Brush and Fan Brush.
THE BODY SHOP x HOUSE OF HOLLAND LIMITED EDITION MATTE LIP LIQUID COLLECTION,
This limited edition make-up gift makes a great stocking filler for beauty addicts - inside you'll discover three long-lasting, best-selling shades of Matte Lip Liquid – Nairobi Camellia, Mauritius Dahlia and Windsor Rose.
WELL-PLAYED GIFTS FOR HIM
Shave Away Kit for Kings & Gentlemen,
For all those well-groomed men in your life, make their day with this shaving duo, including Maca Root Shave Cream for Men 200ml and the Wooden Shaving Brush. He'll be wondering how he ever lived without them.