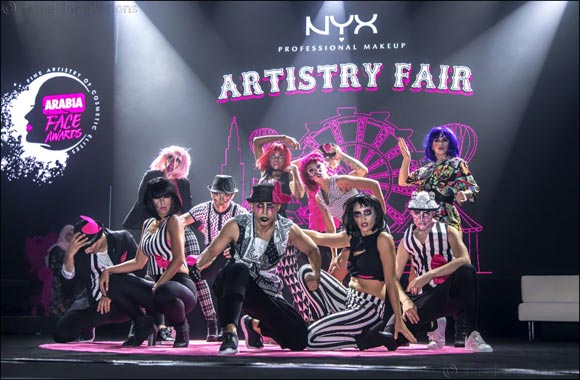 NYX Professional Makeup's mega annual FACE AWARDS event offers regional talents a chance to win the title of 'Makeup blogger of the year", a trip to LA, a year's supply of products and 50,000 SAR
Dubai, UAE, November 13, 2017: NYX Professional Makeup named Mohammad Dashti, @arabia.felix, as the 2017 "Makeup Blogger of the Year" during the 2nd Annual Arabia Face Awards Event which was held on September 10 at The Music Hall in Dubai.
This year's edition of the Arabia Face Awards began with a series of themed video make-up challenges for beauty vloggers across the region. Over nearly four months, hundreds of award entries from different countries were shortlisted before the live event. It also brought together a panel of 4 coaches: Maya Ahmad (@themayaahmad), Dalal Al Doub (@dalalid), Bouba (@makeupbybouba) and Sara Al Wadaani (@sara_wad3ani). In addition the final six contestants were judged by four esteemed local and international personalities which included superstar and singer Maya Diab (@mayadiab), International beauty influencer Chrisspy (@chrisspy), contouring Maestro Samer Khouzami (@samerkhouzami) and renowned makeup artist Hanan Al Najadah (@hananalnajadah). The event was hosted by the famous fashion influencer Noha Nabil (@nohastyeicon).
Speaking about the event, Thierry Houssin, Managing Director of L'Oréal Middle East said: "Our millennial audience is made of digitally-forward makeup enthusiasts who are always looking for new inspiration online. The Face Awards is a unique program that empowers this audience and supports the upcoming makeup talents in our region. It's a distinctive platform that allows the makeup community to express themselves and shine by showing off their creativity. We are super proud of the talented contestants and extremely grateful for the support we receive from this ever growing community over the past two years".
Mohammad Dashti competed live against Sara Fadel (@susiibeauty.sfx), Alicia Goveaz (@dubai_faceandbodyartist), Rasha Al Madhyan (@rasha_makeup), Seddiqa Al Ansari (@salansariimakeup) and Afnan Hamdan (@afnan_hamdan). Contestants—working from the theme "Artistry Fair "which coincided with the theme of the event—produced a video featuring the beauty look they had created for this final challenge. The unveiling of each video onstage drew cheers from adoring fans. All the contestants wowed the crowd with their colorful designs and skilled artistry, but with Mohammad's mesmerizing final work and catalog of looks he created throughout the competition, he ultimately secured the title of "Makeup Blogger of the Year, SAR 50,000 prize, a year's supply of products and a trip to LA with NYX Professional Makeup.
The Face Awards ceremony invited guests to experience the magic of "Artistry Fair "through fun games and digital interactive booths such as the Google Tilt brush, a digital vending machine and a GIF photo booth. Other forms of artistry, like the Sharmila dance crew, Maya Diab's exclusive performance, body painted models at the entrance all added to the vibrant atmosphere. Live artistry make-up stations, where guests got their make-up done by the team of experts from NYX Professional Makeup, was a huge attraction.
Arabia Face Awards is a culmination of NYX Professional Makeup's year-long initiatives to support, encourage and elevate the Professional makeup community. These initiatives include the opening of the first stand-alone boutiques in Abu Dhabi and Lebanon in addition to training of makeup schools, community gatherings and content creation platforms.