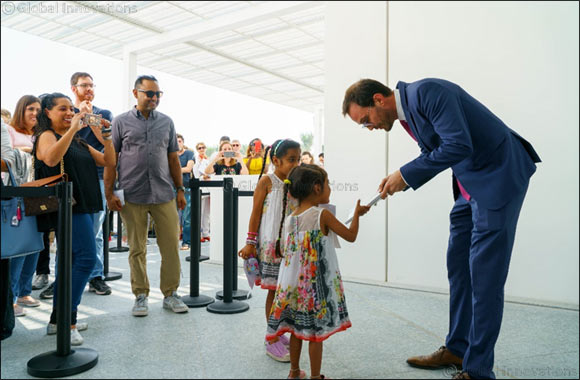 Manuel Rabaté, Director of Louvre Abu Dhabi, welcomes museum's first visitors
Abu Dhabi, 11 November 2017: At 10am on Saturday 11 November, Louvre Abu Dhabi opened its doors to the public for the first time. The highly-anticipated museum welcomed thousands of visitors to see the exceptional architecture and the masterpieces displayed throughout the galleries.
Manuel Rabaté, Director of Louvre Abu Dhabi, commented: "Louvre Abu Dhabi presents a collection of exceptional artworks and artefacts that are unparalleled anywhere in the region, housed within one of the 21st century's architectural masterpieces. After an exciting period of preparation, the opening is a truly special moment. Today, this building becomes a museum."
Louvre Abu Dhabi's Children's Museum welcomed young visitors and families to its inaugural exhibition, Travelling Shapes and Colours, which engages children through specially curated artworks, regular tours and workshops in various languages and areas.
To mark the historic occasion, celebrations are taking place at Louvre Abu Dhabi until Tuesday 14 November. Included in admissions tickets are a spectacular light show by Groupe F as part of the Emirati-French Cultural Programme; dance performances by Lucinda Childs and Lemi Ponifasio; traditional Ayala, Chinese and Dogon parades; a video installation by Dubai-based artist Hind Mezaina; and other multicultural music, dance and art performances.
Tours and workshops suitable for a range of ages are also included in admission throughout the opening week, inviting visitors to explore the museum's architecture and collections in an inspiring setting.
There is also a headline concert series from French singer and rock guitarist Matthieu Chedid, known as –M–; mesmerising Malian performer Fatoumata Diawara; Lebanese jazz and world musician Ibrahim Maalouf; and the magnificent singer and dancer Totó La Momposina, whose performances are inspired by Colombian Caribbean traditions.
Louvre Abu Dhabi is a museum city (medina) which combines traditional Arabic inspiration with contemporary design and engineering. Waterfront promenades overlook the sea underneath the iconic dome, comprised of 7,850 unique metal stars set in a complex geometric pattern. When sunlight filters through, it creates a cinematic 'rain of light', reminiscent of the overlapping palm trees in the UAE's oases.
In addition to the permanent galleries and a 270-seat auditorium, Louvre Abu Dhabi features special exhibition space, a Children's Museum, boutique, café and a public park.