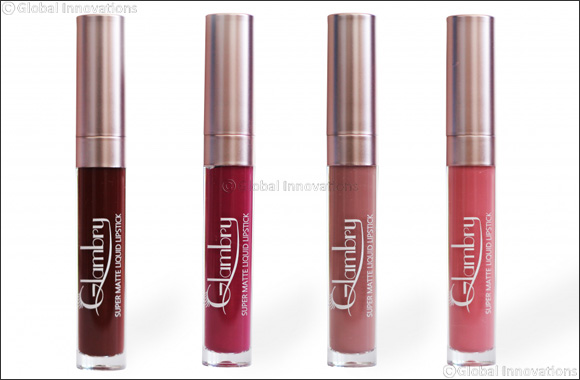 Glamazle.com, the online beauty and fashion store that caters to the lifestyle needs of the Middle East, introduces 'Glambry' lipsticks this season
Housing high-end brands such as Kat Von D, Jouer Cosmetics, Kylie, NYX among others, the online beauty platform, Glamazle.com offers striking shades of super matter liquid lipstick from its 'Glambry' collection.
An online platform with over 80 brands in the beauty, wellness, style and derma care industry to its catalogue, Glamazle.com offers some of the most sought-after international brands at the right price, with shipping across the MENA region
Dubai, United Arab Emirates, October 18, 2017: Glamazle.com, the one-stop shop for skincare, beauty and fashion products, presents the 'Glambry' lipstick range. The Glambry collection includes different shades from pinks, nudes, reds, deep burgundy among others to choose from.
The liquid lipstick is long wearing, water proof, smudge-resistant and matte colour. The saturated formula brings an intense shot of matte pigment in one easy stroke. With just a single stroke application the lips can get a smudge resistant coverage for long hours and sets all day. The Glambry range offers glamourous lip tints like Empress, TQueen, Sultana, Lady M, Jasmine, Diva, Afari, D.Dynasty, Princess, Majesty, Elanor, Yardstick, Ruby, Sheikha in shades of pretty pinks, reds and browns.
Founded by Neelam Keswani, Glamazle.com is the region's one stop store where one can find the world's leading beauty and cosmetic brands at just a click. The website houses international names with a wide variety of makeup, skin, hair and nail care, wellness and lifestyle products.
Neelam Keswani, Founder, Glamazle.com, said, "We are very excited to introduce the new Glambry liquid lipstick collection to our store. When it comes to making a statement, matte is the way to go. The varied hues leave a velvety finish on the lips and helps define the prefect pout. The Glambry lipsticks are water proof, smudge resistant, long lasting and requires only one stroke application. The collection offers different tints suitable for any occasion. We have always been committed to providing the best quality of products through our store, at the right price, and have chosen to house some of the best quality items with our seal of assurance. We look forward to bringing many more quality beauty products to the region, and hope for a positive response for buyers towards them."
The online portal hosts a selection of high-end quality products for beauty and make-up including brands such as Kat Von D, Jouer Cosmetics, Anastasia Beverly Hills and Colour pop among many others. The focus of Glamazle.com is to unveil in the region the best brands at their standard price. Glamazle.com is constantly monitoring the global trends and local preferences of the region to add more and more professional makeup and skincare products that cater to every fashionista's needs.