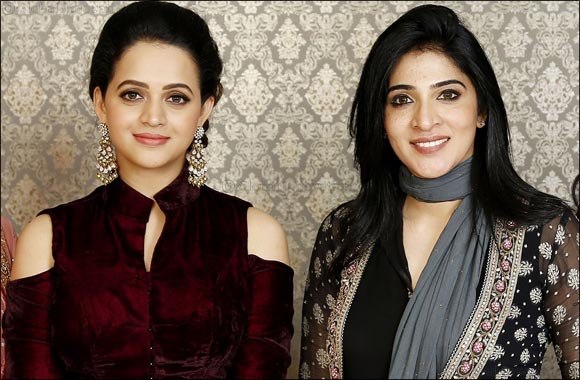 South Indian movie actress Bhavana inaugurated the outlet located on Al Wasl Road, Dubai
The renowned designer also launched her latest collections
Dubai, October 10, 2017: When the past meets the present in a celebration of kinds through perfectly designed silhouettes made from beautiful materials, you get Rehana Basheer's latest collection. The renowned designer, after successfully running her stores in India, has now opened doors to her very first store in the UAE. The store was inaugurated by noted South Indian movie actress Bhavana.
Rehana's designs strike a perfect balance between the modern and by gone era, complimented with beautiful colors fluid fabrics and intricate embroidery. Her designs range from regal bridal couture and modern festive pieces to relaxed effortless silhouettes.
Rehana started her designing career in 2003 in a modest way. She opened her first outlet in Chennai in 2013. Rehana has gone on to participate and enthrall audience with her ethereal designs in various fashion weeks across India. Over the years she has built a strong clothing label with a distinctive style and a strong clientele that also includes movie stars among others. Her store on Al Wasl Road, Dubai, UAE, is her first international store.
"I take a lot of inspiration from the Mughal and Nizam era that I blend into a modern twist to create my collections", Rehana said, while unveiling her latest collection at the newly launched store. "I am passionate about using different kinds of materials and transforming them by giving them great silhouettes and cuts. I try focus my collections on a certain kind of material that will be transformed into different designs and cuts to suit different kinds of women. My designs go from ethnic to casual everyday wear, sometimes even in the same material giving the entire collection different perspectives to look from and to appeal to different tastes."
Elaborating on choosing Dubai as a destination for her international launch of her store, Rehana said, "Dubai is growing into a major fashion capital of the world. It is truly an amazing city, it is vibrant and multicultural. We will be looking at more international destination in the coming years."
Speaking about the designer and her collection, Bhavana, said, "It is an honour to inaugurate the store for such a talented designer. Rehana is amongst the most sought after designers in South India and I am glad to see her grow and take her brand forward internationally. Her designs and the beautiful way in which she creates each of her pieces is truly a treat."
Giving us a peek into her latest collections, Rehana said, "I am thrilled to launch my new collections that are designed keeping in mind the woman of today that likes to dress comfortably while not compromising on the style quotient. The collections are a symbol of celebration of unique styles creatively interspersed with edgy cuts and silhouettes and beautiful colours. I am very happy to see my sketches come to life and to have a star like Bhavana showcase the designs for me along with inaugurating the store is precious. The first collection is called Narm, is specially designed for the women of Dubai using breathable and light muslin material and pashmina in beautiful pastels, for easy effortless clothing. One can breeze through a long work day looking fresh and Elegant."
"In my other collection, festivities get a stunning makeover with the designs created for every occasion. It has dreamy dusty pink pieces with Intricate embroideries on georgette and chiffon silhouettes to stunning bridal anarkalis in fuchsia and cream raw silk with heavy gold embellishments," she added.
Rehana oozes the charm of a bygone era, basking in its luxurious elements and elaborate designs. With an array of different styles like layering, gold and lace trimming, she creates wearable designs.