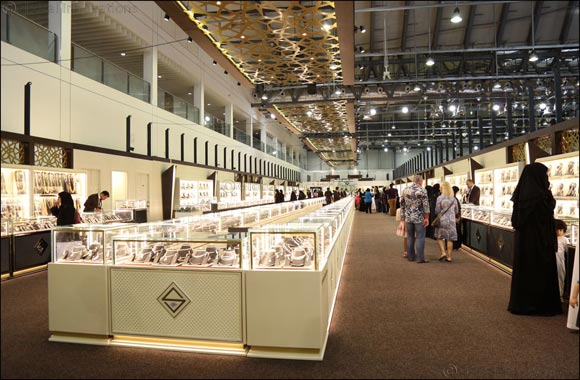 Sharjah, October 2, 2017: Under the gracious patronage of His Highness Sheikh Dr. Sultan bin Muhammad Al Qasimi, Supreme Council Member and Ruler of Sharjah, the 43rd Mid East Watch & Jewellery Show will commence today (Tuesday) and will continue up until October 7th at Expo Centre Sharjah.
More than 500 of the most renowned companies and brands in jewellery and gold work design as well as diamonds, gems, precious stones, pearls, watches, and luxury items are participating in the show which is being supported by the Sharjah Chamber of Commerce & Industry (SCCI).
This year's edition of the show hosts national pavilions from several countries that are considered leaders in the field of fine watches and jewellery, including India, Hong Kong, Italy, Lebanon, Malaysia, Singapore, and Thailand. In addition, the show brings together leading companies and famous brands from the United States, the United Kingdom, Russia, Japan, Latvia, Lithuania, Saudi Arabia, Jordan, Bahrain, and Taiwan, along with tens of Emirati companies.
H.E. Saif Mohammed Al Midfa, Chief Executive Officer of Expo Centre Sharjah, said that the Mid-East Watch & Jewellery Show is one of the biggest international events to be hosted in Sharjah. The show's importance and significance arise from the prominent role it plays in attracting large segments of businessmen, investors, traders, experts, and representatives from the watch and jewellery design industry, domestically and regionally.
Al Midfa also added that the show has increased in importance due to the scale of local and international participation in the event and its continued growth. Mid-East Watch & Jewellery Show is the only event of its kind in the region that is held biannually, making it the ultimate platform to showcase the latest product lines, innovations, and unique designs by the world's leading watch and jewellery companies.
The show is an ideal platform through which industry players can build professional partnerships, and target investment opportunities. It also allows the general public to purchase items directly from exhibitors. Additionally, the show provides visitors many opportunities to win valuable prizes and enter raffles throughout its duration. For each purchase valued at AED 500, visitors have the chance to win a variety of special prizes including a luxury Mercedes Benz car, 2 kg of gold bars and diamond rings.
The 43rd Mid East Watch & Jewellery Show will run from 12 PM to 10 PM each day, except on Thursday and Friday. On Thursday, the show will open its doors from 12 PM to 11pm and on Friday from 3pm to 11pm. Wednesday October 4th will be reserved exclusively for women from 12 PM to 4 PM.
The show is being held amidst expectations for the global precious stones and jewellery market to record a compound annual growth rate of over 7% by 2019 according to a report by TechSci Research. Meanwhile, the UAE's luxury commodities market is expected to have grown from USD 3.18 billion in 2004 to USD 8.98 billion before the end of the current decade.