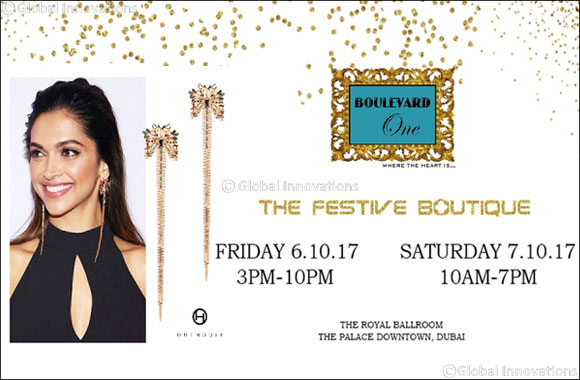 On October 6 and 7, 2017
AT THE ROYAL BALLROOM, PALACE DOWNTOWN DUBAI
Dubai, UAE, September 19, 2017: Boulevard One launches its biggest ever edition of the Festive Boutique on October 6th, 2017. Celebrating its 13th edition, Boulevard One is set to showcase over 50 top Pakistani and international designers, collectively. This season's highly anticipated two-day exhibition will answer all your fashion needs; from pret to luxury wear, jewellery to home, handbags to shoes.
Keeping up with the tradition, this season's exhibition will give an equal opportunity to new and talented home-grown brands, alongside internationally acclaimed designers like Elan, Esfir, Shamaeel Ansari, Rajat K. Tangri, Sehrish Rehan A la Pakistan, Mina Hassan, Outhouse, Farah Talib Aziz, Delphi and Shazia Hashwani.
Boulevard One takes pride in bringing designers from across the world and giving them a platform to meet their fans and new clientele from all nationalities in the UAE including Emiratis, Lebanese, Pakistanis, Indians and Europeans.
"We always believe in aggressive marketing and consistent efforts; this edition of Boulevard One will give all shoppers that are away from home, an opportunity to shop apparel and accessories for Diwali and other festivities under one roof." Said Sadaf M Khan, CEO Boulevard One.
The highly anticipated exhibition will take place on 6th and 7th October 2017, at The Royal Ballroom, Palace Downtown Dubai from 3 PM to 10 PM on Friday and 10 AM to 7 PM on Saturday.