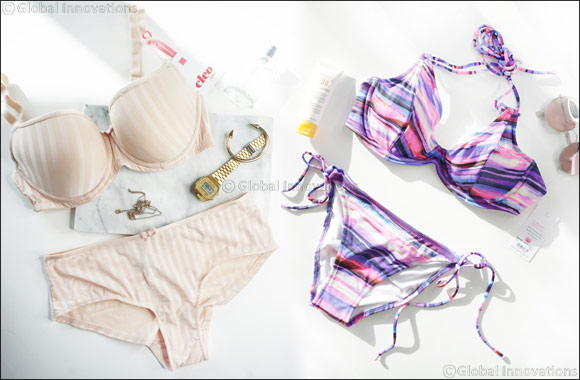 Top lingerie packing tips and the best sets to see you through the summer
Dubai, UAE, June 13, 2017: As people in the GCC are getting ready for the summer holidays, TKD Lingerie has stocked up on lingerie 'Super Staples'; the best everyday essentials for supporting women from morning until night.
Many residents in the GCC take long summer holidays but luggage restrictions mean that each piece packed needs to justify its space in the suitcase. When evaluating the merits of any bra, TKD Lingerie suggests you ask yourself if it fits perfectly, makes you look and feel great, and if it will support you in all your outfits. The D-K cup expert recommends making space in the suitcase for nude, black, and strapless bras, along with stylish swimwear that flatters and supports.
TKD Lingerie also reminds all women to take care of their lingerie when they pack. Bras and bikini tops should be stacked and the shape of the cup can be supported with a rolled up sock. Keep lingerie packed in a soft bag or wrapped in a T-shirt inside the suitcase to safeguard from creams, hooks, and Velcro.
Curvy Kate, Luxe strapless. Available in Biscotti, Black, and Ivory. 28-38 D-J cup AED 250 / BD 25. Matching shorts AED 105 / BD 10.50
Panache Cari moulded spacer 28-38 D-H cup AED295 / BD 29.50, brief AED105 / BD 10.50
Cleo Lexi moulded balconnet bra, available in Black and Latte. 28-38 D-H cup AED 265 / BD 26.50, shorts AED 95 / BD 9.50
Miss Mandalay Wanderlust halterneck bikini 28–38, D-GG cup, AED 280 / BD 28. Side tie pants AED 135 / BD 13.50
Cleo Gigi halterneck bikini 28-38 D-G cup AED 200 / BD 20. Bikini pant AED 135 / 13.50