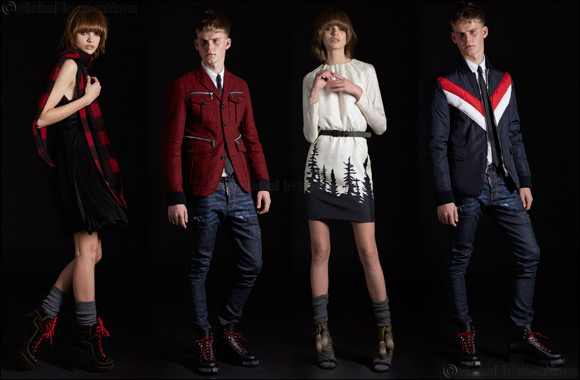 Dsquared2 Pre-Fall 2017 Women Collection
Next fall, Dsquared2's girl is leaving the city, bringing her sporty glam style to the snow-capped mountains of Canada. Inspired by mountaineers, hikers and trekkers who seek the beauty and challenge in the outdoors, the Dsquared2 Pre-Fall 2017 collection connects to nature with the iconic codes of the brand. She may be rugged up on the mountain, but she's expressing her own singular style. Bold checks, volume contrasting modern shapes and a juxtaposition of tech and traditional fabrics inside the collection represent the essence of Dsquared2. The striking look is emphasized in a graphic color palette of grey, black, red and white.
A sportswear influence characterizes pieces with contrasting volumes. Wide-legged maxi pants and voluminous coats in lustrous soft yet structured leather bonded with jersey have a glamorous attitude. Shell tops, knits and a contemporary jersey tracksuit with cropped pant are accented with athletic zips and stripes.
A vintage mountaineering theme explores Dsquared2's Canadian roots. Patterns and designs bring the brand's heritage to the forefront: jacquard knits, a pine tree print and the distinct Dsquared2 red-and-black buffalo check. The fabrics come in key Dsquared2 cuts and style mash-ups: cargo pants with oversized patch pockets, parkas and jackets topped with plush fur trim, while the black-and-white panoramic-style pine tree design frames the bottom of a silk dress and top.
Functionality in trekking wear is revisited with a Dsquared2 eye for detail: zips, cords and hooks trim dresses and jackets. Jersey and leather are bonded together with thermo sealing in black dresses and tops. The embellishments also appear on the collection's accessories. Sandals laced-up with colorful hiking laces, and another ankle strap stiletto design features zips on the leather straps. A hiking boot is mixed with a stiletto sandal for a modern bootie with red laces. Bags and caps recount the adventures they go on: the denim Deana is appliquéd with souvenir style patches. Hunter caps are equipped with fur earflaps. Classic Dsquared2 belts are crafted with ornate aged metal buckles.
Dsquared2 Pre Fw17 Man Collection
Roaring out of the city to Canada's great outdoors, the guys from Dsquared2 Pre-Fall 2017 are headed to the mountains and forests. Adventure junkies who take their style cues from vintage hiking and mountaineering clothes, their wardrobe is classic Dsquared2: denim-heavy, sporty and topped with a contemporary outerwear lineup. A heritage hiking and trekking theme gives the collection its outdoorsy, athletic lines. Coated skinny fit pants and jeans are worn with check or denim shirts, zip details trim pockets on jackets and wool jogging pants. Hiking laces are knotted into toggles on a coat. Embroidered patches cover a jean jacket and backpack, souvenirs of places these guys have explored.
Dsquared2's iconic red-and-black buffalo macro check is built into outerwear mixed with denim and structured cotton. Bomber jackets in nylon and denim and down-filled jackets have sporty vintage V stripes in navy, red and white. Technical sweatshirt jackets and tailored jackets are embellished with a swathe of soft silver sequins on the shoulder taper down to the waist.
Knits and sweatshirts feature cross whimsical cross-stitched deer, or jacquard designs with a key Canadian motif, the maple leaf.
A military influence is translated with Dsquared2's modern treatments and oversized cuts. Macro cargo pockets in contrast colored leather, or denim appear on wool peacoats and felt bomber jackets and a voluminous parka is printed in camo. Graphic camouflage in electric blue, black and white emphasizes the shoulders of athletic poplin shirts and wool jackets.
Boots are sporty or military style: one design features hiking laces, bright tech fabric inserts and metal on the toes of the sole; the other an all-black lace-up ankle boot with lustrous and matte leather.
Classic Collection
Named after XX jetset cities, The Classic Collection of suits is refreshed in new exclusive fabrics. Modern day tailoring is cut from pinstripes and fine chalk stripes in shades of grey. Bold checks and Prince of Wales checks feature in rich midnight blue and Bordeaux tones. The suits are cut from textured, tropical weight and worsted wool. Evening looks shine courtesy of lustrous jacquards, jackets in bronze-toned or pewter-hued lurex camouflage, lamé gray graphic motifs are finished with contrast black lapels. Dsquared2's contemporary black tuxedo in the Tokyo cut is slim-fit with a narrow shawl collar trimmed in black satin.