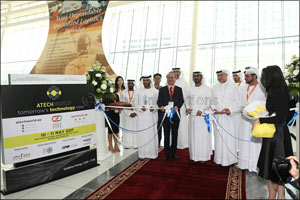 Abu Dhabi, United Arab Emirates, 10th of May 2017: Held under the patronage of His Highness Sheikh Mansour bin Zayed Al Nahyan Deputy Prime Minister, Minister of Presidential Affairs of the UAE, H.E. Hussain Ibrahim Al Hammadi, Minister of Education, inaugurated today the 1st edition of ATech World Conference & Exhibition and the World Game Expo, which is held at the Abu Dhabi National Exhibition Centre – ADNEC.
After the traditional ribbon cutting ceremony, H.E. Hussain Ibrahim Al Hammadi along with a number of key officials and industry leaders have toured the exhibition area where they were introduced to the latest technologies in Virtual Reality, Internet of Things - IoT, Online Games, Application Development, Wearable Techonology, Artificial Intelligence – AI, VR, Interactive Entertainment, and Smart Solutions.
From his side, Eng. Anas Al Madani, Vice Chairman and Group CEO of INDEX Holding said: "Technology plays a big role nowadays in making our lives easier, faster, and smarter. UAE's and the national level governments across the Middle East have digital transformation high on their agenda, driven by smart nation ambitions across the region. According to a report from Gartner, governments in the Middle East and North Africa are set to spend $11.6 billion on IT products and services in 2017. Therefore, we saw a need for an event in the capital Abu Dhabi to support this transformation and highlight the evolving technologies that will be affecting our lives in the very near future."
Eng. Anas Al Madani added: "Through ATech World Conference & Exhibition, we will also highlight the use of technologies nowadays to measure happiness that contributes to the vision of the UAE to become the happiest nation in the world."
He went on saying: "Happening in parallel to ATech World, World Game Expo, will feature a number of activities that support game developers in the region like the Indie Game Devfest which will give game developers the opportunity to present their games to publishers and get a chance to launch them."
He concluded: "There is a lot of potential in our youth that we should invest in and support. According to a report by newzoo released last year, The Middle East & Africa (MEA) region was one of the fastest growing gaming regions in the world, with 26.2 per cent year-on-year growth."
Parallel to Ateh World, the 10th Global Hackathon Series will be held where 70 contestants will have to develop an application during 36 hours .
Speaking more about it, Christina Lila, Regional Manager, Middle East at AngelHack said: "The theme of the Abu Dhabi Hackathon is 'Commit to Your Code' - a play on words as 'commit' in a hackathon is when you make a set of tentative changes permanent. It is the scary moment of risk, which also allows all tech prototypes to evolve and reach their potential. We ask our community of technologists, designers and entrepreneurs to 'commit' on a metaphorical level also, as many of our challenges are asking coders to use their skills for a higher cause, to create something for the common good of humanity."
She added: "For Abu Dhabi, the challenge is broad in that we are asking each team to solve a problem in the UAE using technology. They have to dig deep and define that problem, show they understand it, and then walk us through their vision as a tech solution. The additional challenge is the GovTec Challenge which will ask developers to find technology solutions to build tolerance, empathy and foster understanding across cultures and differences."
ATech World Conference & Exhibition and World Game Expo are organized by INDEX Conferences & Exhibitions, member of INDEX Holding and, both events are scheduled to run until 11th of May 2017 at Hall 2, ADNEC.