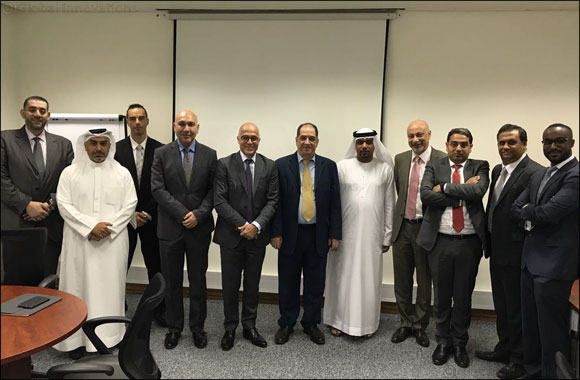 April 20, 2017 - Dubai, UAE: The UAE Banks Federation (UBF), a professional body representing 49 member banks operating in the UAE, today hosted a high-level delegation from SWIFT, the global provider of secure financial messaging services. The delegation – led by Mr. Alain Raes, Chief Executive for Europe, Middle East and Africa and Asia Pacific for SWIFT – met with UBF's executive management and chairmen of concerned technical committees to discuss key issues and challenges facing the UAE's banking industry including cybersecurity and the future of cross-border payments.
During the meeting, Mr. Raes updated UBF members on the SWIFT 2020 Strategy which aims at ensuring continued operational excellence in its core financial messaging services, as well as the recently-introduced Customer Security Program, a dedicated program helping customers to reinforce the security of their SWIFT-related infrastructure. The program supports customers in strengthening their cyber risk management in the face of persistent threat of attacks.
Mr. Raes also gave an overview of SWIFT's global payments innovation (gpi) initiative, which will improve corporate customers' experience of correspondent banking by increasing the speed, transparency and predictability of cross-border payments.
Commenting on the SWIFT delegation's visit, Mr. Nasser Sarris, Director General, UAE Banks Federation, said, "We are very pleased to welcome Mr. Raes and his team to the UAE and to have the opportunity to discuss with them some of the most pressing issues facing our industry. The meeting comes in line with UBF initiatives to introduce a series of measures aimed at tightening up security throughout the banking ecosystem. Building closer collaboration with SWIFT and exploring the different ways we can benefit from their global expertise in cybersecurity and risk and management is key to ensuring that these initiatives deliver the desired level of results."
Mr. Raes added, "SWIFT is delighted to be working closely with the UAE Banks Federation as it drives innovation in the UAE. To support the global financial community, we develop products and programs that fulfill industry requirements. As such, our Customer Security Program is helping the community to secure the broader ecosystem while our global payments innovation initiative is enabling the industry to rejuvenate correspondent banking."