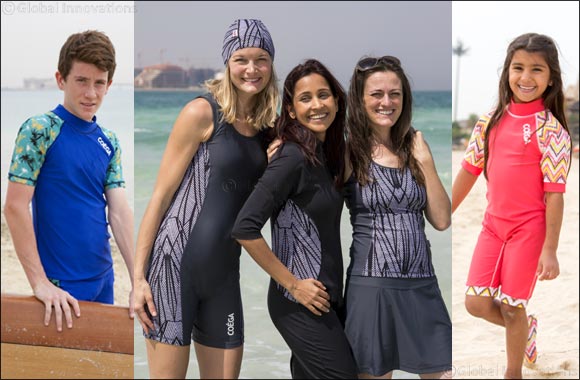 UAE & QATAR, April 16, 2017: Home-grown swimwear brand COÉGA Sunwear has teamed up with leading sports retailer GO Sport to create an exclusive Spring / Summer collection to be sold in stores across the Middle East region from April 2017.
Combining COÉGA's high-quality UPF50 swim fabrics with eye-catching designs and fresh new colourways, the collection provides superb sun-protection, comfort and durability for women and children looking to enjoy quality time on the beach or around the pool.
The versatile collection of black and grey swimwear for ladies comes with a striking diagonal design and includes the popular ladies Swim Shortie and ¾ length Slim-kini, a ladies Tankini and matching Swim Skirt all available in sizes 6-18.
For children the collection includes COÉGA Sunwear favourites, the one-piece suit for boys aged 2-6 years available in blue with a fun cartoon crab detailing on the sleeves and a cool coconut tree design for older boys with the YOUTH two-piece swimsuit available in sizes 6-14 years.
Girls of all ages will be jumping for joy in the delightful COÉGA Sunwear starfish & flowers Swim Shortie available in sizes 4-14 years while beach-loving girls will cast a glow in the one-piece swimsuit (sizes 4-12 years) and two-piece suit (sizes 4-14 years) both available in Nectarine Chevron.
'One of the many attributes of being a home-grown brand is that we are able to work very closely with our retail partners to provide unique swimwear styles and designs that are tailored to their customers,' commented Maureen Hall, the founder and CEO of COÉGA Sunwear. 'We are proud that all our COÉGA Sunwear products continue to be manufactured in the UAE and this enables the flexibility to develop distinctive capsule collections such as the COÉGA and GO Sport exclusive line,' Maureen concluded.
The COEGA Sunwear / GO Sport collection will be available in GO Sport stores across the Middle East region from April 2017.