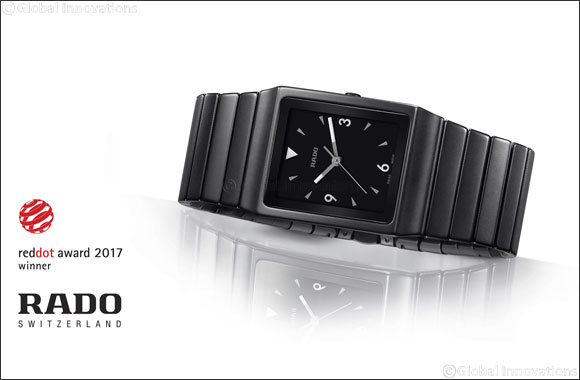 (Dubai, UAE – April 12, 2017) : The iconic Rado Ceramica has been honoured with the 2017 Red Dot Product Design award, proving yet again the brand's mastery of cutting-edge design and materials.
Swiss watchmaker Rado made waves in the design world last year with the relaunch of its one-of-a-kind Ceramica collection. In a collaboration with renowned industrial designer Konstantin Grcic, the brand updated its bold geometric timepiece with a contemporary look for the new generation. Now with these latest design accolades from Red Dot, the new Ceramica joins Rado's extensive array of award-winning timepieces.
Contemporary cool
Limited to just 701 pieces, Konstantin Grcic's award-winning signature model stands out not only because of its velvety sandblasted finish, but also thanks to the creative use of typography on the dial. "In my opinion, the matt finish brings out the form of the watch much stronger," says Grcic. "The design of the dials is bold and legible. I took inspiration from pilot watches – I like them for their straightforward, clear graphics."
As the name suggests, the Ceramica is crafted from high-tech ceramic, a material favoured among many high-end watchmakers for its exceptional properties. Advances in technology, together with Grcic's vision, have given rise to this masterful high-tech ceramic collection, which finds expression in the twenty models that now make up the new Ceramica family. The latest additions to the Ceramica collection feature – for the first time ever – automatic movements and grey high-tech ceramic.
About Rado
Rado is a globally recognized brand, famous for innovative design and its use of revolutionary materials to create some of the world's most durable watches. Ever since its beginnings in Lengnau, Switzerland, Rado has had a pioneering spirit, with the brand philosophy "if we can imagine it, we can make it" still holding true today.
A leading design brand, Rado has over 35 prestigious product design awards to its name. The brand also has a longstanding tradition of initiating and partnering with design events and promoting young talent through the Rado Star Prize.
About Red Dot
The Red Dot Product Design competition has existed since 1954. Its award, the Red Dot, is an internationally recognised quality seal. From fashion and accessories to consumer electronics to vehicles, household helpers and furniture – manufacturers and designers of all kinds of different industrial products can enter the competition for the sought-after "Red Dot" prize in currently 31 categories.