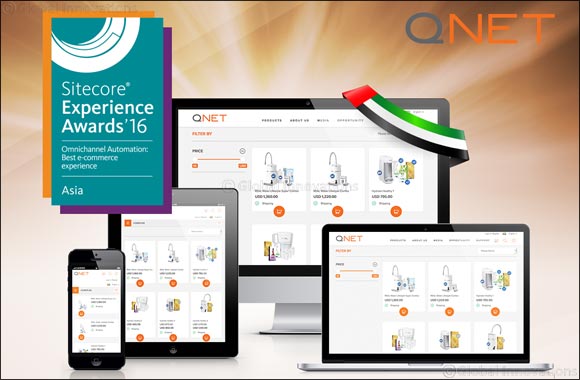 Dubai, UAE, March 19, 2017 – QNET today announced that it has received the award for Omnichannel Automation: Best E-Commerce Experience at the Sitecore® Experience Awards 2016 for Asia. Every year, Sitecore, the global leader in customer experience management, honours its customers and their partners who thoroughly demonstrate how their Sitecore solution delivers an outstanding experience for customers and their respective organisations.
The category of best E-Commerce Experience that QNET won, recognises organisations that deliver a seamless, integrated e-commerce experience that makes the online browsing, product selection, purchasing and post-purchasing process seamless, helpful, and relevant. QNET showcased personalised product suggestions, an omni-device shopping experience, and optimisation strategies in improving shopping cart conversions. With Sitecore Commerce's native capabilities such as catalogue, inventory, pricing, discount, and promotion management, and shopping cart interactions, the QNET corporate team can now implement and manage product and incentive promotions more easily and efficiently.
"We were thrilled to be honoured as a Sitecore Experience Award winner," said Trevor Kuna, CEO of QNET. "We worked diligently with Sitecore's industry-leading Experience Management Platform™ to create a winning site that leverages the full power of context marketing to serve our customers best, driving loyalty and delivering a tremendous digital experience," Kuna added.
In 1998 QNET launched as the first direct selling company to be purely e-commerce based, and today this next generation platform further enhances QNET's unique position as a leader in the industry. With support from implementation partner Delaware, QNET has created a seamless and consistent shopping experience. To stay competitive in today's digital age and meet the demands of its growing global digital audience, QNET aims to continue to deliver an exceptional customer experience that is modern, robust, and sustainable for its customers.