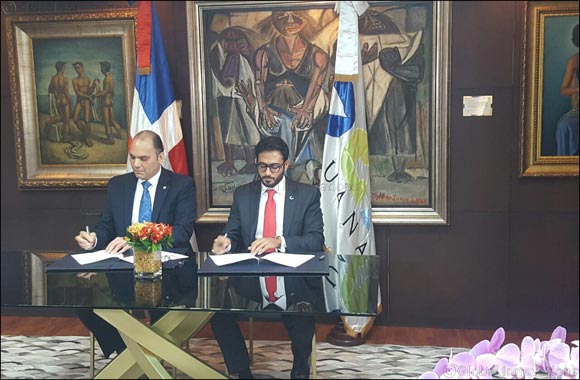 The agreement is to further underpin the Dominican Republic's position as a regional trading hub in the Caribbean
Dubai – 16 Mar 2017: Customs World, a subsidiary of Ports, Customs and Free Zone Corporation in Dubai, has signed an agreement of cooperation with the General Directorate of Customs of the Dominican Republic.
According to the agreement, Customs World will provide technical assistance and expert advice to the Dominican Customs in their reform and modernization process. The aim is to devise a reform and development blueprint to build Dominican Customs' capacity through enhanced customs procedures and clearance systems.
The project is geared towards boosting Dominican Customs services, duty collection and revenue protection, while building their anti-smuggling capabilities to ensure a safe and secure society, and reinforce economic growth. This will ultimately enhance the Dominican Republic's capacities and further underpin its position as a regional trade hub in the Caribbean.
The agreement was signed on March 15, 2017 in Santo Domingo, the Dominican Republic, by Faisal Eissa Lutfi, CEO of Customs World, and Enrique Ramirez Paniagua, Director General of the Dominican Republic's General Directorate of Customs.
Following the signing of the agreement, a team of four experts from Dubai Customs who had accompanied the delegation will stay there for a one-month mission to conduct a gap analysis and needs assessment on the Dominican Customs' existing systems and procedures. Based on their conclusions, a set of recommendations for customised reform implementation as part of the agreement's preliminary phase execution will be presented by Customs World to the Dominican counterparts.
Commenting on the agreement, Sultan Ahmed bin Sulayem, DP World Group Chairman and CEO & Chairman of Ports, Customs and Free Zone Corporation (PCFC), said: "The signing of this agreement comes as part of the constructive cooperation between PCFC and the Dominican Republic, which commenced back in 2006 with the development of DP World Caucedo Terminal near Santo Domingo, the capital of Dominican Republic and Caucedo Logistics Center, a joint venture between DP World and Caucedo Development Corporation. This cooperation agreement as well as the integrated development projects already being implemented by PCFC will surely bolster the Dominican Republic's capacities and enhance its pivotal role as a regional trading and business hub in the Caribbean and the Americas. Such cooperation would also better serve economic development in the region at large, promote inter-Caribbean trade and facilitate access to other global markets."
Bin Sulayem praised the positive collaboration of Dominican authorities with PCFC, on the directions of President Danilo Medina Sanchez. He emphasized the PCFC's commitment to supporting economic development plans in the Dominican Republic in line with the UAE's global role in building friendly nations' economic growth capabilities. The wise leadership wants the UAE to be key enabler of world economy through transfer of our knowledge, expertise and progressive experience to other countries.

"At PCFC, we are very excited to contribute to the Dominican Republic's genuine efforts to become a leading trading hub in the Caribbean by helping them build capacity in ports, trade and customs sectors – an area where Dubai is a world-class model. This follows the directives of His Highness Sheikh Mohammed bin Rashid Al Maktoum, Vice President and Prime Minister of the UAE and Ruler of Dubai, to export Dubai's home-grown, first-rate experience to those friendly countries that seek to boost their economic and commercial performance," said Bin Sulayem.
He affirmed that several Customs administrations around the world have in fact expressed their desire to explore and benefit from the longstanding experience of Dubai Customs in order to increase their efficiency in Customs work to be on par with highest international standards and global best practices in the field.
Enrique Ramírez Paniagua said: 'Full of enthusiasm, we are glad to sign this MOU with Customs World (Dubai Customs). We will have more opportunities in the future and this will help us play our role in a better way'.
On his part, Faisal Lutfi said: "Our top priority at Customs World is to provide real added value to Customs partners around the globe.
"Through this agreement, Customs World will deliver a comprehensive capacity-building program to the Dominican Customs to help expedite and optimize their customs clearance process while maintaining both effective and efficient control of goods and people. The world-class expertise, knowledge and technology-based screening tools and solutions developed over the years by Dubai Customs will be offered to facilitate and meet that objective."
In addition to conducting a reform and modernization program of the Dominican Customs processes and systems for stronger efficiencies, the agreement also focuses research, development and training and other areas of mutual interest, he noted.