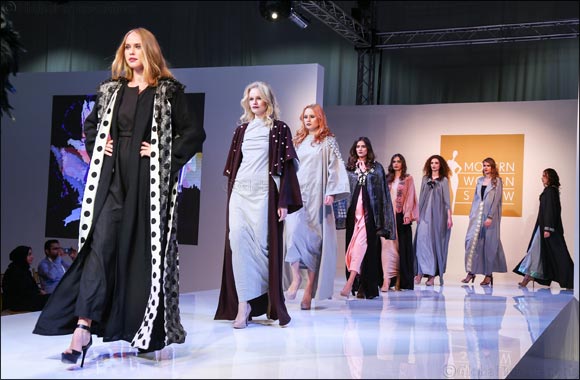 Forms strategic partnership with Dubai Design District (D3) and Dubai Design and Fashion Council (DDFC)
The three-day premium lifestyle and fashion extravaganza embodies the 'will and want' of today's woman, providing a lucrative platform for beauty retailers and distributors
UAE consumers spent US$2.1 on beauty and personal care in 2016, spending predicted to increases to $2.7 billion by 2020
Fragrances, colour cosmetics, skin care and hair care products in demand.
Dubai, UAE, March 6, 2017: Dubai's glamourous fashion, lifestyle and wellness exhibition, Modern Woman Show will be returning for its second visit to the hot seat of the fashion world. Catering to today's woman, the show has all the making of a complete world-class shopping extravaganza under one umbrella showcasing a niche and exclusive array of local and international hi-end brands including fashion, jewellery, fragrances, cosmetics, skincare, salon gym and spa, hair and nail accessories, fragrances and much more. The show will also feature on-site beauty sessions on hair, makeup and nail art, designer collections, fashion shows, product launches and makeovers.
Adding glitz to the exhibition, scintillating line up of fashions shows will be hosted by some of the international fashion designers including Rajdeep Ranawat, Essa Walla and Sakina Ahmed.
The three-day luxury exhibition, conceptualised and organised by Sumansa Exhibitions will be held between 20th and 22nd April, 2017, at Za'abeel Hall 4, Dubai World Trade Centre. Modern Woman Show has also entered into a strategic partnership with Dubai Design District (D3) and Dubai Design and Fashion Council (DDFC) while Lootah Perfumes is on board as the Platinum Sponsor of the event. The exhibition has also tied up with Sama Dubai who will be the Official Television Partner and Vaniday as the Online Beauty Partner.
Commenting on the exhibition, Ms Reem Al Zarouni, Emirati Entrepreneur and Organizer of the Modern Woman Show said: "Our idea is to present niche and exclusive brands in an elite setting and provide exhibitors a perfect platform to interact with their consumers in lavish ambience. In a city like Dubai, where fashion and a luxurious lifestyle are a statement, the profitable returns of the beauty industry know no bounds. Given the UAE's cosmopolitan nature, particularly Dubai, the avenues open for beauty, lifestyle and wellness industry are not just infinite, but also diverse. The Modern Woman Show will be a reflection of that diversity and the vibrant market."
"Visitors will have an opportunity to mingle and shop from various brands, which range from designer abayas & ready-to-wear clothing, to cosmetics & fragrances, and even home accessories. They will also partake in exclusive promotions, deals, on site make overs, demos and so much more", added Reem.
Latest statistics by analysts Euromonitor International (EMI) claim that UAE consumers spent US$2.1 billion on beauty and personal care in 2016 alone, with spending predicted to increases to $2.7 billion by 2020. Among the beauty products, fragrances topped the list at US$642 million, followed by colour cosmetics (US$400 million), skin care and men's grooming (both US$300 million), and hair care at US$283 million.
Another news report published last year believes that the Middle East market will be the fastest-growing region in beauty and personal care products from 2015 to 2020, with the UAE among the leading markets. The country also recorded the highest per capita spend at $239 in 2015 in the region. The report, based on a survey, further claimed that the UAE's premium market share will increase from 48 per cent to 50 per cent between 2015 and 2020.
"Such positive growth gives us full confidence that Modern Woman Show will be a great success once again," said Samantha Cordeiro Miranda, Deputy General Manager - Marketing and Communications, Sumansa Exhibitions, "We have the stage set for not just established brands and seasoned exhibitors, but also new businesses looking for an entry into this thriving market, where they can test their brand viability. Given the central and accessible location of the venue, a strong pull of a diverse range of beauty and lifestyle products and the presence of international and local brands, I believe this is the place to make sales, launch new products and offer promotions."
The Modern Woman Show further promises brand visibility, and an ideal opportunity for brands to understand their consumer, and find out what today's woman really wants. Moreover, the exhibition is also a great platform to build new partnerships and businesses.