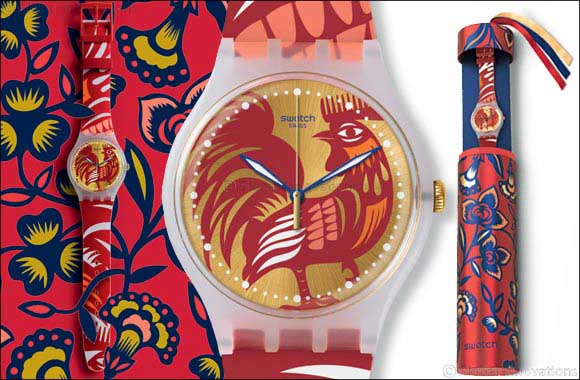 Dubai, UAE, February 16, 2017: Happy to join the celebrations welcoming the Chinese Year of the Rooster, Swatch has created ROCKING ROOSTER
(SUOZ226), ready to rock around the clock.
As time-sensitive as Swatch, roosters stand for fidelity and punctuality – awakening people every morning with their crowing. Making sure everyone stays wide-awake and on time, ROCKING ROOSTER crows with a bright red wake-up design.
One of the many ways to keep track of time in China is through the use of a zodiac calendar that assigns a different animal to each year in a 12-year cycle. 12 years ago, Swatch hailed the Year of the Dog with a special Chinese New Year watch, and every year since, Swatch has created a zodiac Special to help ring in the Chinese New Year. ROCKING ROOSTER celebrates the first completion of this 12-year Swatch cycle.
Drawn in the style of traditional Chinese paper-cut art, a jaunty red rooster struts across the gold-colored dial, while a robust multi-colored silicone strap holds the case firmly in place. The New Gent comes in special packaging with a flowing, red-hued floral design in the style of traditional textile prints.