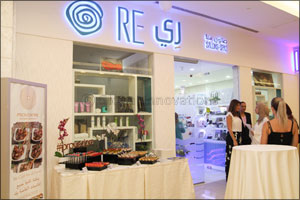 On February 12, 2017, Re-Salons and Spas organized a unique event themed around Valentine's day in their Jumeirah branch.
In collaboration with Cosmeticq products and Provedore Restaurant, the event was held to celebrate Valentine's day and to pamper the turn out of leading influencers and bloggers of the UAE who got pampered by chocolate facials, Lip, hand and feet scrubs made with high end ingredients prepared specialty for this occasion by Cosmeticq Products. They all left feeling soft, and smelling like chocolate.
Cosmeticq Products are a Superior Personal Care Products line crafted using the best natural and organic ingredients. The Product range is niche by nature and developed with extra care to satisfy each customer's needs.
Provedore Restaurant is dedicated to finding the very best ingredients, they make sure that every product sourced has been hand-picked from suppliers who are as passionate about quality. Provedore has supported RE Salons Spas by serving unique finger food to the guests.
Rana El-Eid, the Founder and Chief Wellness Advocate of Re-Salons and Spas, who was present at the event, welcomed the ladies who attended and spoke about the importance to take care of yourself first and love yourself to be able to care for your family and loved one. Hectic lives can sometimes take over and we need to just take a break, relax and rejuvenate.
the RE- experience can be also done at home thanks to a great selection of homecare services and products offered by RE-'s award-winning RE-Wheelz SPA @ home service, which brings the entire salon experience to your doorstep.
With branches in Jumeriah, Dubai Marina, International city and Internet city, Re-Salons and Spas makes the experience accessible to most women across the UAE. Their skilled and professional therapists deliver a host of beauty and spa treatments for you to look good and feel better.
With the introduction of their gemstone membership packages, you can indulge in unlimited spa and salon services every month with added savings of AED 4,000/- monthly.
Re-Salons and Spas aims at making beauty accessible to every woman at affordable prices.
For more information and to enquire about their gemstones, contact: 600-522557