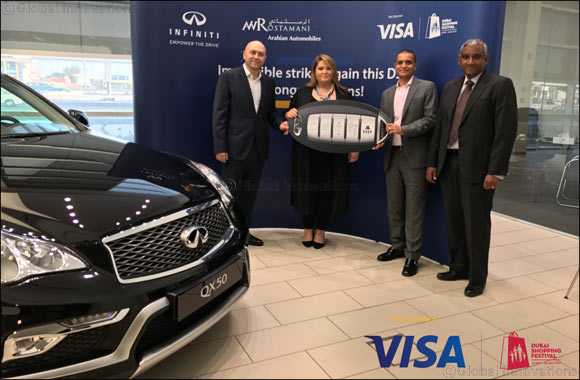 Dubai, UAE 15 January 2017: Two lucky shoppers of Visa Impossible Deals drove away brand new Infiniti QX 50 luxury crossover SUVs this Dubai Shopping Festival.
Tency Thampy and Holly Dickins paid AED25,000 each for their Infiniti QX 50 instead of the retail price of AED181,000, an impressive 86% discount courtesy of Visa and Arabian Automobiles.
Visa, a global payments technology and a strategic partner of Dubai Shopping Festival 2017, is running its highly successful "Visa Impossible Deals" initiative until 28 January, 2017. The breakout deals for Visa cardholders include other luxury items such as gold, jewellery, watches, iPhones, and even booking a whole cinema for family and friends with just one ticket for a fraction of the price. The exclusive deals are revealed each day and are available on a first come, first served basis.
"It was the first time for me to take part in major deals and was very surprised to find out from Visa that I did make it especially with hundreds participating! Visa Impossible Deals is quite a unique proposition for Dubai Shopping Festival and I'm happy to have participated. While it may seem daunting that a lot of people take part in the deal, I say luck favour those who attempt!" enthused Mr. Thampy.
For her part, Ms. Dickins thought it was a hoax: "When I received the call to say I'd got the Visa Impossible Deal, I was in shock. I was at work at the time and when I told my colleagues, they were convinced it was fake. Once I stood in the Infiniti showroom, that's when I knew it was real and a week later, the car was officially mine!"
Customers can still take advantage of the impossible deals by signing up at www.visamiddleeast.com/dsf. Registered Visa cardholders will receive daily notification on email or SMS until the 28th of January and get the deals on a first-come, first served basis.
Karim Beg, Head of Marketing, Visa MENA said: "Visa is seeing yet another successful run on our Impossible Deals this Dubai Shopping Festival. It is encouraging to see that more consumers are confidently using debit or credit cards rather than carrying large amounts of cash. Thanks to our 20 years long partnership with Dubai Shopping Festival, Visa is able to curate fantastic deals with partners to reward shoppers during this annual event with deals that are not normally possible."