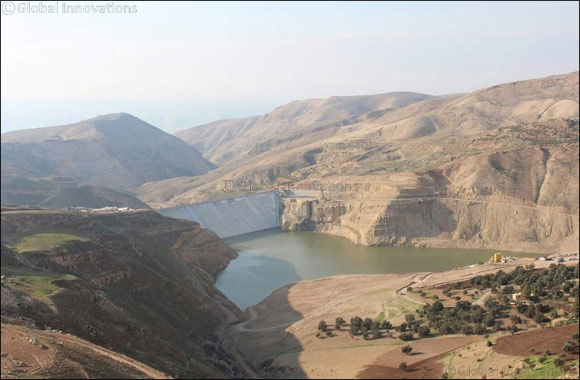 His Excellency Mohammed Saif Al Suwaidi confirms tailored approach to match government of Jordan economic expansion strategy
Abu Dhabi-UAE: 11 January, 2017: Abu Dhabi Fund for Development (ADFD) attended the official opening of the Kufranjah Dam – a development project funded by the UAE government and managed by ADFD in the Kingdom of Jordan.
Located north of Jordan's capital Amman, the newly completed AED103 million (US$28 million) project is in line with the framework of the 2013 UAE government contribution of AED4.6 billion (US$1.25 billion) to the Gulf Development Fund, a five-year grant program of the GCC member countries to finance development projects in Jordan. With a storage capacity of 7.8 million cubic meters of water, the Kufranjah Dam aims to augment the country's irrigation and drinking water resources and further develop the fertile town of Ajloun.
His Majesty King Abdullah II of Jordan inaugurated the dam. His Excellency Hani Al-Mulki, Prime Minister of Jordan, His Excellency Mohammed Saif Al Suwaidi, Director General of ADFD, His Excellency Bilal Al Bdour, UAE Ambassador to Jordan, and several high-ranking Jordanian officials attended the ceremony.
Praising the historic brotherly ties between the UAE and Jordan, His Excellency Mohammed Saif Al Suwaidi said: "For decades, our two nations have enjoyed strong bilateral ties fostered by the UAE's founding father late Sheikh Zayed bin Sultan Al Nahyan, and the late King Hussein of Jordan. To date, ADFD has successfully funded 31 development projects in Jordan across key socio-economic sectors – most notably health, education, transport, agriculture and energy – valued at AED5.7 billion. The Fund tailored its approach to match the government of Jordan's economic expansion strategy."
He added: "ADFD's efforts draw from the wise leadership of the UAE President His Highness Sheikh Khalifa bin Zayed Al Nahyan, the guidance of His Highness Sheikh Mohamed bin Zayed Al Nahyan, Crown Prince of Abu Dhabi and Deputy Supreme Commander of the UAE Armed Forces, as well as the counsel of His Highness Sheikh Mansour bin Zayed Al Nahyan, Deputy Prime Minister, Minister of Presidential Affairs and Chairman of ADFD's Board of Directors."
His Excellency Imad N Fakhoury, Jordan's Minister of Planning and International Cooperation, commended the UAE government on its continued support of his country's key economic sectors through ADFD's mission that complements the government of Jordan's efforts for strategic advancement, aggregate economic growth, increased productivity and higher standards of living. Moreover, he stated that the dam will serve Ajloun and the surrounding areas and increase agricultural production an integral sector in Jordan's economy.
Since its inception in 1971, ADFD has financed development projects in more than 80 countries around the world valued at over AED75 billion.