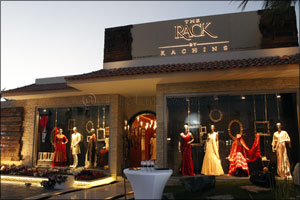 The new store is as stunning as the collection it houses. As Dubai celebrates the new year 2017, Kachins Group hosted the launch of their new showroom – The Rack by Kachins located at Al Wasl Road, Opposite Box Park, Jumeirah 2.
Dubai, UAE, January 11, 2017: ​ Kachins Group, the iconic Dubai-based suit makers, have been operating in the U.A.E. for over three and a half decades, in which time it has become a pioneer trendsetter across the region in the bespoke fashion industry. The group has now launched its sixth showroom - a luxurious multi-designer hub to retail exclusive creations by reputed names like Anamika Khanna, Tarun Tahiliani, Rohit Bal, Gaurav Gupta, Pankaj & Nidhi, and many more.
Sprawled over 10,000 sq. ft. area of a stand-alone villa in Jumeirah 2, The Rack aims at not just being a new shopping destination, but an experience a client can enjoy when they enter the store. The vibe of the store encourages one to look at things that otherwise stereotypically did not think were luxurious. "Things are appreciated more in a space where they belong. What Indian designers bring about is unique fashion, and hence, the store has been created keeping in mind to compliment these designs." The store is divided into different sections – with each designer having a dedicated rack space with strategically hung warm lights, beautiful chandeliers, and large mirrors to reflect and fragment vanities.
Keeping in line with its philosophy to create an impressive curation of the designer names, The Rack houses exclusive fashion collections from designers hand-picked by Neetu herself. More than anything else, this thoughtful curatorial added with the decor vibe is a strong cultural compass. "It is a treat for the fashionistas who admire the work of Indian designers but cannot own something due to their non-availability in the U.A.E. market. Our clients will enjoy personalised attention helping them get the desired look with the most flattering silhouettes."
"The Rack by Kachins has become our flagship store. It portrays and captures a generation shift with a lot of versatility, and presents it with an art of luxury. The curation from design to the selection of the latest collections from leading designers has been a very exciting journey for me. The Rack is now a permanent home to the renowned designers." commented Neetu Ramchandani, Creative Director at The Rack.
The new space of The Rack will host regular fashion events, exhibitions and trunk shows with their stellar list of designers, thereby completing the shopping experience for appreciators of Indian couture and accessories. The destination store is recognized for its high quality Indian and trousseau wear. The loyal, discerning customer is assured to find the most exclusive ensembles at The Rack with a well-empowered personalised attention that is quite clearly the USP of the The Rack experience.